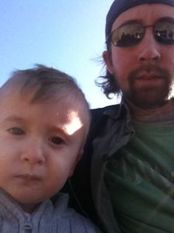 It's Monday, time for another WEXT My Exit show -- where the listeners get to pick their own playlists.
Here's a look at what's coming up tonight:
Who?
James Harrison. I'm 30 years old and from Amsterdam. I have a degree from SUNY Geneseo in communication, so naturally I work as a rural carrier for the US Post Office. That does, however, lend me plenty of time to listen to music.

I have an amazing two year old son, Finnegan, whose taste in music includes Radiohead, Tom Waits, The White Stripes, Pearl and The Beard. He also listens to the Peanut Butter Jam Saturday mornings on 97.7. He is a great inspiration in my life, and in many of my selections in my playlist for my show.

I am also an aspiring writer of fiction, short stories, and crappy poetry. I'm hope to be published in the future -- if I can actually finish at least one manuscript. The biggest influence in my writing is Hunter S. Thompson.

How would you describe your taste in music?

I have a wide taste in music. One of the reasons I really enjoy listening to 97.7 is that I can easily jump from one artist and genre to another without missing a beat. I love discovering new artists and I don't really dislike any type of music, except for really twangy country. I enjoy creating eclectic playlists and finding songs that flow together -- from rock and jazz to blues and traditional. I also use music a lot when I'm writing. I find that Tom Waits and Radiohead create a great dark and brooding setting. So do classical works from Bach and Beethoveen.

I've gotten more into the live music scene this year, having seen Of Monsters and Men, The Felice Brothers, Caravan of Thieves, The Lumineers, and Diego Garcia's performance at Music Haven. I spent four days at Mountain Jam. I've also seen many local and original 518 bands like Eastbound Jesus and Headband Jack. Music is incredibly important to me. It creates a bond that crosses cultures and it is one of my three necessities in life; good music, good friends, and good wine.
A few songs from James' My Exit Show:
Caravan of Thieves - "Live Forever" and "Raise The Dead"

Really, this band was the inspiration for me to create a My Exit playlist. I saw Caravan of Thieves at Mountain Jam and again at Caffe Lena in Saratoga. I was completely blown away by their live performances and immediately started a one man campaign to get them played on WEXT. I could have easily dedicated a whole hour to music from their three albums, but I settled on two from their album The Funhouse. They start and end my hour of music. Caravan of Thieves is a gypsy jazz quartet with guitars, violin and double bass and percussion that is made up of five gallon buckets, spoons and pans. "Live Forever" tells of the age old dilemma of wanting to live forever versus not wanting to live forever and goes through that transition in the song. "Raise The Dead" is an incredibly fun and beautiful song about honoring loved ones and deceased and inviting them to come to feast featuring hand clapping and feet stomping. It's the type of song that just makes you want to hit repeat over and over.

Radiohead - "High and Dry"

I'm the type of person who just loves everything Radiohead puts out. From Amnesiac, to Kid A, to King of Limbs, I think Radiohead can do no wrong. I decided to go back before their more heavily electronic influenced music with "High and Dry" which is perhaps my favorite Radiohead song, and definitely one of their most beautiful. I feel it's a song that speaks to the human desire to not be alone, especially when left for something seemingly better.

Counting Crows - "Ooh La La"

Counting Crows recent album Underwater Sunshine (or what we did on our summer vacation) is an amazing collection of truly unique cover songs. I chose to share "Ooh La La" because its the type of love song that I find most appropriate in my life right now. It reminds me of love lost, love not realized but with an upbeat hope of a love yet to come.

The Dropkick Murphys - "A Few Good Men"

What better for an eclectic playlist than a raucous song from a Boston Irish punk rock band? I really wanted to throw a little curve in with this fast barroom singalong. Dropkick songs frequently feature mandolins and bagpipes, and they frequently do ramped up versions of traditional Irish folk songs. The chorus is one of my favorites to sing along with, with its catchy rhythm and lyrics about standing together united in song, and pride -- "Join us in a song, we shall rise and sing, stand up and be counted sing a song for liberty; join us in this song, together we shall sing, rise up and be counted, sing it loud sing it proud." If you listen to it closely, you realize that "A Few Good Men" is a poignant anthem today for those rising up together against oppression.
You can hear James' My Exit show Monday night at 8 pm on 97.7 or at exit977.org.
Here's how to schedule your own My Exit show on WEXT.