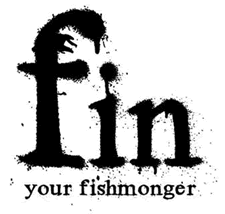 Fin -- the mobile fishmonger that's been selling at local farmers' markets -- is opening a permanent shop in the Star Plaza in Guilderland (Western Ave and Route 155).
Owner Peter Kenyon says they're finalizing details and aiming for a mid-November opening.
"We always wanted a market from the get-go," says Kenyon, who started Fin with his partner Dora Swan a year-and-a-half ago. But they needed to raise capital to open the shop. Kenyon says that happened faster than expected via their sales at the Delmar Farmers Market, and more recently, the farmers' market at the Italian American Community Center on Washington Ave Extension. He says they also got valuable help from the NYS Small Business Development Center.
Kenyon says the permanent shop will allow them to carry a wider variety of seafood, and will also help smooth out ordering and storage. "Right now I have to order everything and it's a huge gamble," he says of trying to guess how much they can sell at each farmers' market, "If it doesn't sell, I'm eating a lot of fish."
Fin gets its stock direct from the dock in Boston, and Alaska via air (it got Copper River Salmon this summer). Kenyon says all the seafood is sold 1-2 days out of the water. And they carry only sustainable species. "You won't see Chilean Sea Bass in our store."
After the new shop opens, Kenyon says they plan to continue selling at the Delmar Farmers' Market. The market provided an important intermediate platform for the business to grow. "Delmar's done a great job supporting us," he says of Fin's loyal customer base, praising their desire for high quality products and support of local small business.
This is a second career for Kenyon. He has a degree in hotel and restaurant management, but he says he had worked for years in the commercial HVAC business. "I love it," he says of his current career, describing how much he enjoys working with Fin's customers. "Nobody calls the heating and cooling guy unless something's broken."
Hi there. Comments have been closed for this item. Still have something to say? Contact us.