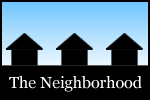 Among the topics in this most recent spin around the Capital Region's online neighborhood: lights on Lark, grand jury duty, ice cream sandwiches, polo, Playhouse in the Park, getting muddy at the Warrior Dash, the Altamont Fair, 45-cent avocados, $14 biscotti, cookie butter, a disappointing breakfast, salamanders, and Dutch dogs.
Matt has been asked for a proposal about bringing the strings of tiny lights back to Lark Street.
Kristi learned a few things during grand jury duty.
Daniel and the Idiots have been organizing the Albany-Saratoga ice cream sandwich competition -- the field from Albany, and the field from Saratoga.
Rob had some thrilling moments at a Saratoga Polo match.
It sounds like Katelyn had a fun time at Playhouse in the Park.
Silvia says she had a blast at this year's Warrior Dash.
Steve's mobile got an unexpected ride at the Altamont Fair.
Jessica ventured into the Save A Lot and came back with 45-cent avocados.
Val enjoys the $14 biscotti from Rock Hill -- and, unfortunately, so did her dog.
Wendy says her Trader Joe's trip was a "nightmare" -- but she did end up with cookie butter. Mr. Dave -- in Mr. Dave fashion -- decided he needed to make his own cookie butter.
Jerry had a disappointing breakfast at Peaches.
Emily's started to look at food blogging differently.
Christine took a quick trip to Gloucester.
Albaniana spotted salamanders at Thacher Park.
Chuck entered a handful of photos in the Altamont Fair photo competition.
Carl noted that even the dogs were Dutch at one point in Albany.
And Akum ongoing chronicle of her Pine Hill home touched on how alcohol shaped one of the families that lived there.