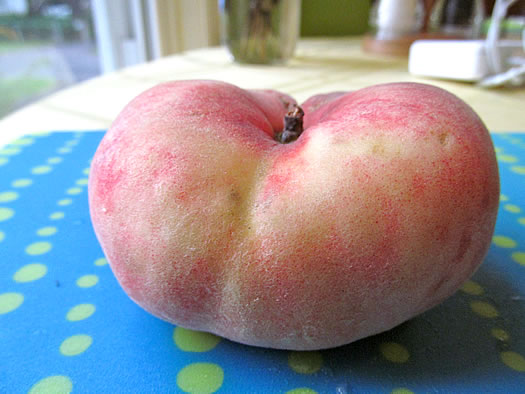 By Casey Normile
Tom Maynard of Maynard Farms is a fixture at the Schenectady Greenmarket. He's been selling a wide variety of peaches, plums, nectarines and pears since the market started in 2008. And he grows some delicious fruit on his Hudson Valley farm.
"We try to deliver an honest-to-god good product to every customer who leaves here," he says. "My goal is for people to come here, buy our peaches and then come back next week saying, 'Wow, that was a really great peach.' Once they try it, they realize this isn't supermarket fruit."
Maynard has a friendly, outgoing presence, and you can often catch him talking about the finer points of fruit with customers.
I talked with him at the market recently for a quick guide on peaches and nectarines -- what separates the different varieties, how to make sure they're ripe, what the fuzz is called, and why you should look for the ugly ones.
Yellow Peaches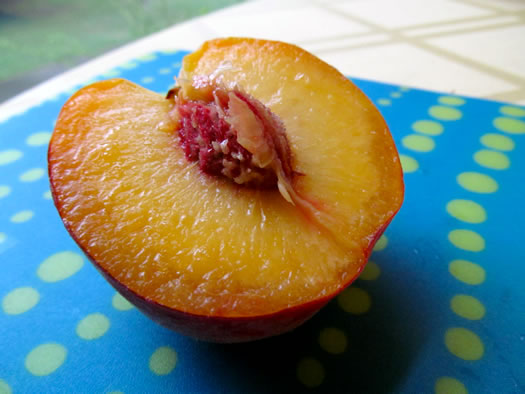 The most common of the peaches -- they're what you typically find at the supermarket. They're sweet but also a little tart.

"This is the fruit you want if you're looking for a little sweetness to add to your smoothie," says Maynard.
Of course, the best-tasting peach is a ripe peach. Maynard's method for testing ripeness:
1. Find the line that runs along the peach from stem to bottom -- the "suture".
2. Hold the wide flat part of your thumb over the suture.
3. If it gives under a little bit of pressure, you know it's ready to eat.
If you're buying for later in the week, Maynard suggests a three-day rotation system, so that less-than-ripe peach you bought on Sunday at the farmer's market will be ready to eat on Wednesday. And always keep them at room temperature to ripen.
White Peaches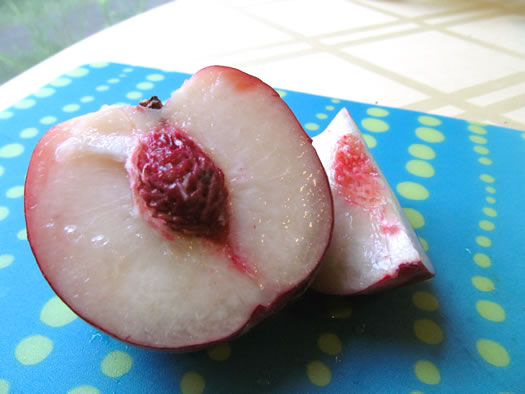 While popular in Asian and Indian cooking, white peaches are a little less common to the American shopper. But these are the peaches you want to eat on their own. White peaches are sweeter and have a stronger flavor. Maynard warns, "Once you go white, you never go yellow."
Maynard recommends mixing white peaches with yellow peaches when baking because the flavors of the two peaches combined produce the ultimate peachy flavor.
Yellow Nectarines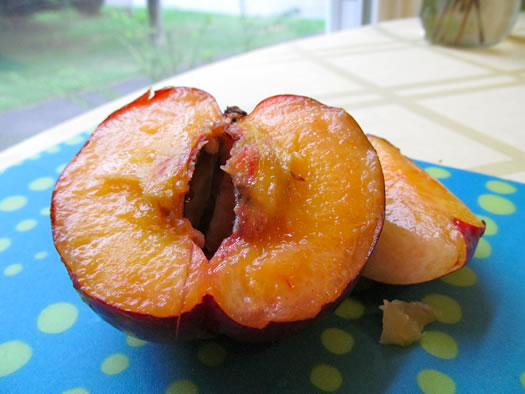 Nectarines are a close cousin of the peach, the only difference being nectarines' lack of "pubescence" (the technical term for the fuzz on a peach).
Maynard says the fuzz bothers some people. "Sometimes eating a peach can feel like kissing grandma."
Yellow nectarines are a little less sweet due to their higher acidity, so Maynard suggests pairing them with meats.
White Nectarines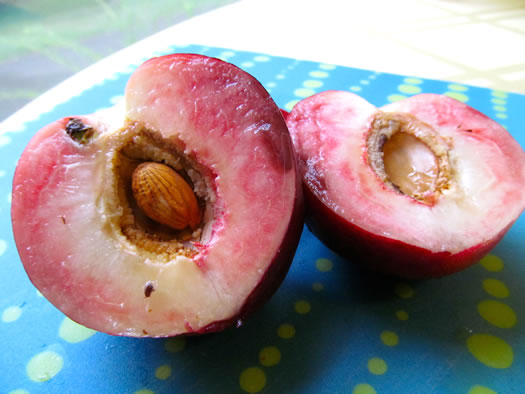 White nectarines have less acidity than the yellow and are therefore referred to as "sub-acid." They're a little bit sweeter, with a complex taste that Maynard describes as "drinking a glass of white wine."
"I'm a nectarine guy myself," says Maynard. "Some days I see one when I'm on the tractor and I just have to stop and eat it. You know it's bad when I eat so many my steering wheel ends up sticky by the end of the day."
White Doughnut Peaches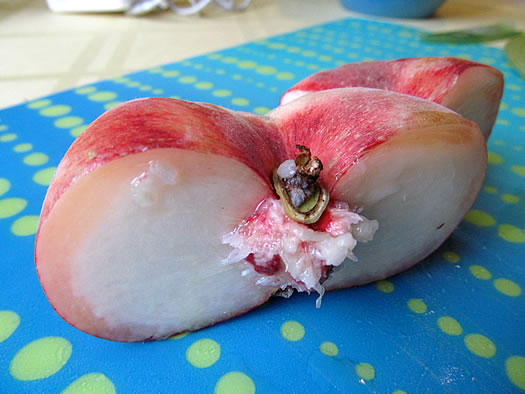 These are the rarest peaches that Maynard offers. Originally grown in China, these peaches have an almost candy-like sweetness to them and a flesh that just falls off the pit. They're short, stout and look similar to a small gourd.
The key for doughnut peaches is to look for the ugly ones. "The uglier it is, the better it tastes," says Maynard. Even he can't really tell you why, but the cosmetically challenged fruits make up for their appearances in taste.
Hi there. Comments have been closed for this item. Still have something to say? Contact us.