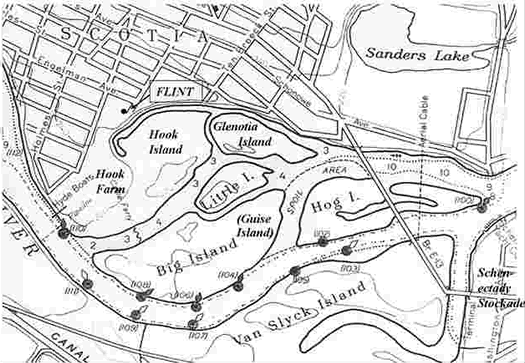 Check it out: an island in the Mohawk River between Scotia and Schenectady is for sale. From the listing for "Glenotia Island" by Denise Polsinelli with CM Fox:
OWN AN ISLAND PARADISE WITHOUT LEAVING THE CAPITAL DISTRICT!HISTORIC GLENOTIA ISLAND IS 18.9 ACRES SITUATED WITHIN THE BEAUTIFUL MOHAWK RIVER. OWN IT FOR YOUR PERSONAL PRIVACY OR CREATE A RIVERFRONT RECREATIONAL DESTINATION.
List price: $91,900.
The Daily Gazette's Michael Goot had an article about the property today -- it was used for recreation in the first few decades of the 1900s, but there's been little activity there since a foot bridge to island was removed in the early 1930s.
The Images of America: Glenville book by the Schenectady County Historical Society has a few photos from back in the day. And here's what appears to be an old map of the area -- the island is marked as "Isle of the Mohawks", which was its name before being tagged Glenotia (Glenville + Scotia). In fact, it still bears that name on some maps. (Also, judging from satellite photos, we wonder if it's more peninsula than island now.)
Find It
Glenotia Island
The Mohawk River
Scotia, NY
Hi there. Comments have been closed for this item. Still have something to say? Contact us.