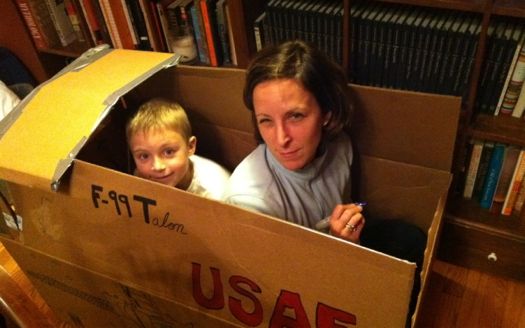 It's Monday, time for another WEXT My Exit show -- where the listeners get to pick their own playlists.
Here's a look at what's coming up tonight:
Who?
I am SarahNicole Mahoney, born and raised in Northport, New York on the North Shore of Long Island. I've been happily married to my best friend, Dennis, for the last 14 years. We moved back up to his hometown of Troy about 6 1/2 years ago to raise our amazing and very rock-and-roll son, Jack. Music has been a part of my life as long as I can remember being alive. Lucky for me, my husband and son are also rabid music fans.
How would you describe your taste in music?
I am a shameless music snob. Not that I necessarily have the most enlightened or highly evolved opinions, but I know what I like and I know what I don't. And yet, I do genuinely adore a broad range of bands, musicians and genres.
About 5 songs from SarahNicole's show:
I am the race director for a local charity 5K, the Capital Region Special Surgery (CRSS) Race for Hope. Since 2009 we have raised over $150,000 locally for persons in the Capital Region living with brain, head, and neck cancer. The songs in this show are those that I find on loop in my head when I'm running on my own and those that have pulled me through some of the tougher times in my life: REM, Wilco, Weezer, Arcade Fire and The National are some of what's here. They aren't all necessarily my favorite bands, but the songs matter a great deal to me.
"Ho Hey" -- The Lumineers
This song is new to me but resonated quickly. It's one of those songs that sound like "one of those songs" when you know everything is going to be okay. John Hughes would have deployed it as Bender faded into the distance, fist frozen in triumph. Wes Anderson 's beloved Tennenbaums would have walked away from Royal's grave to its chorus.
"Half a World Away" -- REM
Not many can do bittersweet and longing the way REM used to (and yes, I am referring to when they still had Bill Berry). It breaks my heart every time I hear it. It makes me want to go and keep going. Where? I'm not sure. But I know I will walk, run, climb, and poll-vault over wind swept cliffs to get there.
"My Name is Jonas" -- Weezer
A rousing, loud, fist-pumping, sing-it- at-the-top-of-your-lungs, "Kick Start Your Heart" kind of song. I dare you to listen to this and not get excited. I double-dog dare you.
"Bloodbuzz Ohio" - The National and "We Used to Wait" -- Arcade Fire
I need to list these songs together because that's how they came to be ear worms for me. The albums these songs came from were released within several months of one another. My husband had already been a huge National fan and we both solidly appreciated Arcade Fire. But man, when these albums co-existed in our house, it seemed like each day was a new match for which was superior. I don't know if a conclusion was ever reached. Which album is better still depends on the day and our moods.
You can hear SarahNicole's My Exit show Monday night at 8 pm on 97.7 or at exit977.org.
Here's how to schedule your own My Exit show on WEXT.
Hi there. Comments have been closed for this item. Still have something to say? Contact us.