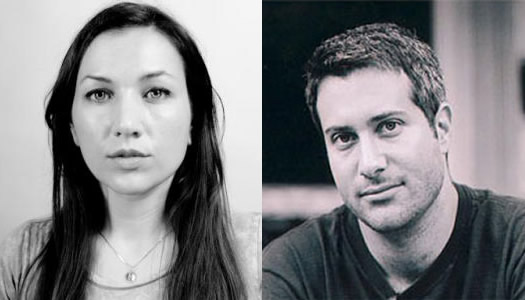 The Frequency North series at St. Rose is back for the upcoming school year -- and the slate is now out. The lineup includes fiction writers, non-fiction writers, memoirists (including a former dominatrix), poets, and the return of Pitchapoolza.
The full schedule is post jump.
Frequency North readings are free and open to the public.
All descriptions via St. Rose.
September 20: M.F.A. in Creative Writing Launch
With readings from: Kenneth Krauss, Daniel Nester, Hollis Seamon, Rone Shavers and Barbara Ungar.
October 18: Anne Trubek
Anne Trubek is the author of A Skeptic's Guide to Writers' Houses, which has been hailed as "a remarkable book: part travelogue, part rant, part memoir, part literary analysis and urban history" and called "relentlessly witty." She has published articles in The New York Times, The Atlantic, Wired, Dwell, GOOD, The Oxford American, The American Prospect, The Washington Post, The Chronicle of Higher Education, among other publications, and has appeared on NPR's "Weekend Edition, "The Diane Rehm Show" and "Talk of the Nation." Trubek has written reviews for B&N Review, The Washington Post, Mother Jones, Paste, Jewish Review of Books, Salon and elsewhere.
November 15: Melissa Febos and Eduardo Corral
Melissa Febos is the author of the critically acclaimed memoir, Whip Smart (St. Martin's Press 2010), which Kirkus Reviews said "expertly captures grace within depravity." Among other places, she has been featured on NPR's "Fresh Air with Terry Gross," Anderson Cooper's daytime show, "Dr. Drew," the cover of the New York Post and New York magazine. Her writing has been published and anthologized widely, in venues including Glamour, Salon, BOMB, Dissent, The Southeast Review, The Brooklyn Rail, The New York Times, The Chronicle of Higher Education Review and The Nervous Breakdown. For five years, she has co-curated and hosted the popular Mixer Reading and Music Series at Cake Shop in New York.

Eduardo C. Corral's first book of poems, Slow Lightning (Graywolf Press), won the 2011 Yale Series of Younger Poets competition. His work has appeared or is forthcoming in Beloit Poetry Journal, jubilat, New England Review, Ploughshares, Poetry and Post Road. A CantoMundo fellow, he's the recipient of a Whiting Writers' Award and the J. Howard and Barbara M. J. Wood Prize from Poetry.

February 7: Nitty Gritty Poetry Slam
Since September 2011, poets have been slamming the stage at Valentine's Music Hall and Beer Joint (17 New Scotland Avenue). Albany's first official slam, certified by Poetry Slam, Inc., Nitty Gritty Slam fielded the first team ever to represent Albany at a National Poetry Slam, held last summer in Charlotte, N.C. This special edition of NGS welcomes all members of the community to slam, judge, cheer, jeer or participate in the open mike.
March 21: Kaya Oakes and David Yezzi
Kaya Oakes' third book, Radical Reinvention: An Unlikely Return to the Catholic Church, was published in 2012 by Counterpoint Press. Her previous nonfiction book, Slanted and Enchanted: The Evolution of Indie Culture, was published by Henry Holt in 2009 and was selected as a San Francisco Chronicle notable book. She's also the author of a collection of poetry, Telegraph, which received the Transcontinental Poetry Prize from Pavement Saw Press. In 2002, Oakes co-founded Kitchen Sink Magazine, which received the Utne Independent Press Award for Best New Magazine in 2003. She edited and wrote for Kitchen Sink until it ended its print run in 2007.
Born and raised in Albany, poet David Yezzi is the author of The Hidden Model (TriQuarterly 2003) and Azores (Swallow 2008), a Slate magazine best book of the year. He is the editor of The Swallow Anthology of New American Poets (2009). His work has appeared in such places as The Atlantic, Paris Review, New Republic, Best American Poetry, Yale Review and Poetry. He serves as executive editor of The New Criterion. His libretto for a chamber opera by David Conte, Firebird Motel, received its premiere in San Francisco in 2003; he is currently at work on a libretto of F. Scott Fitzgerald's The Last Tycoon for composer Cyril Deaconoff and West Bay Opera. His essays and reviews have appeared in The New York Times Book Review, The New Yorker, The Wall Street Journal, The (London) Times Literary Supplement and elsewhere.

March 28: Darin Strauss and Michael Meyerhofer
A recipient of the Guggenheim Fellowship and a winner of the American Library Association's Alix Award and the National Book Critics Circle Award, the internationally bestselling writer Darin Strauss is the author of the novels Chang & Eng, The Real McCoy and More Than It Hurts You. His most recent book is the NBCC-winning memoir Half a Life (McSweeney's, 2011), which Elizabeth Gilbert (Eat, Pray, Love) describes as an "unusually honest, thoughtful and unsettling memoir." His books have been New York Times Notable Books, as well as Newsweek, Los Angeles Times, San Francisco Chronicle, Amazon, Chicago Tribune and NPR Best Books of the Year.
Michael Meyerhofer's most recent book, Damnatio Memoriae, won the Brick Road Poetry Book Contest. His previous books of poetry are Blue Collar Eulogies (Steel Toe Books, finalist for the Grub Street Book Prize) and Leaving Iowa (winner of the Liam Rector First Book Award). Individual poems have won the Marjorie J. Wilson Best Poem Contest, the Laureate Prize for Poetry, the James Wright Poetry Award and the Annie Finch Prize for Poetry. His work has appeared in a number of journals, including Ploughshares, Hayden's Ferry Review, North American Review, River Styx and Asimov's Science Fiction Magazine.

April 7: Pitchapalooza
Local authors will have a chance to land a book deal when Pitchapalooza! returns to Saint Rose. Twenty writers will be selected at random to pitch their book ideas. Each will have one minute to make the best pitch possible to Arielle Eckstut and David Henry Sterry, authors and Pitchapalooza creators, along with guest judges. At the end, the judges will pick a winner, who will receive an introduction to an agent or publisher appropriate for his or her book. Eckstut and Sterry are co-founders of The Book Doctors, a company that helps authors get their books published, and co-authors of The Essential Guide to Getting Your Book Published: How to Write It, Sell It and Market It...Successfully (Workman, 2010).
April 11: Meg Kearney and M. Bartley Seigel
Meg Kearney's most recent collection of poems, Home By Now (Four Way Books 2009), was winner of the 2010 PEN New England LL Winship Award. The title poem of Home By Now is included in Garrison Keillor's Good Poems: American Places anthology (Viking Penguin 2011). Her first collection of poetry, An Unkindness of Ravens, was published by BOA Editions Ltd. in 2001. The Secret of Me, her novel in verse for teens, was released in 2005 by Persea Books. Its sequel, The Girl in the Mirror, came out this year. Kearney's first picture book, Trouper the Three-Legged Dog, is forthcoming from Scholastic in 2013 and will be illustrated by E.B. Lewis. Kearney's poetry has been featured on Poetry Daily and Garrison Keillor's "A Writer's Almanac" and has been published in such publications as Poetry, Agni, and Ploughshares.

M. Bartley "Matt" Seigel is founder of [PANK] a nonprofit literary arts collective that includes PANK Magazine, the Little Book Series and the Invasion Readings across the country. He is the author of the poetry collection This Is What They Say (Typecast Publishing 2012). His writing has also appeared in or is forthcoming from secretjournalmagazine, H_NGM_N, The Lumberyard, Michigan Quarterly Review, Forklift, Ohio, Cell Poems, Bluestem, Bateau, Necessary Fiction, Monkeybicycle, Dogzplot, Wheelhouse, DIAGRAM and elsewhere.
St. Rose advertises on AOA.
Melissa Febos photo via her website. Darin Strauss via his website.