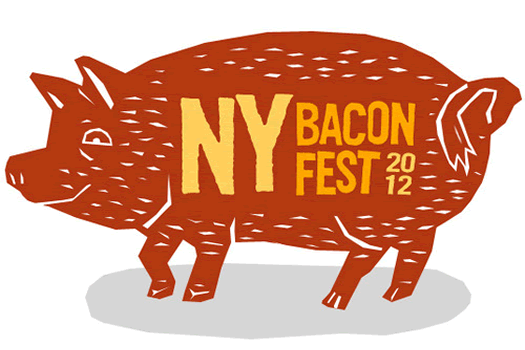 UPDATE: The contest is now closed. The winner's been emailed.
____
The first Bacon Fest NY is coming up this Sunday at the Henry Hudson Waterfront Park in Hudson. The event, a fundraiser for The Regional Food Bank of Northeastern NY, promises to be a bacon extravaganza with bacon vendors, bacon desserts, bacon crafts, a bacon cook-off and a bacon booze cruise with, among other things, bacon-flavored vodka.
Did we mention there would be bacon?
There will also be music from Sgt. Dunbar and the Hobo Banned , Eastbound Jesus, Red Haired Strangers, The Lucky Jukebox Brigade, Ramblin' Jug Stompers and a band called Unexplained Bacon.
We have tickets to giveaway -- and a whole basket of bacon-related items. The winner will receive:
Event
Two tickets to Bacon Fest NY 2012
Food
+ Five-pound variety pack of Mountain Products Smokehouse bacon (Country Style, Chipotle, Maple Cinnamon, Herb and Garlic)
+ One serving of Arkansas Tom's Razorback BBQ Rollup (think BBQ meat wrap that is nothing but meat)
+ Worldling's Pleasure Country Store Cheddar with Horseradish and Bacon Cheese Spread
+ Bacon Rice Krispie Treats from 333 Cafe
+ A box of Bacon Bites Oreos (Oreos topped with bacon and covered in dark chocolate and pink pig sprinkles)
Crafts
+ Bacon Honey lip balm
+ One bar of maple, apple, and bacon soap, and Hickory Smoked Bacon soy candle from Ladybug Soap.
+ Lunch cooler with Freshpet coupons
Music
+ A Red Haired Strangers CD
+ A Eastbound Jesus CD and sticker
Swag
+ One BFNY t-shirt and one Hand printed BFNY poster from Hatch Show Prints
To enter:
Replace the name of something in the Capital Region with the word bacon. Then leave it in the comment section. It could be a place (The Bacon State Plaza), a music group (Sgt. Dunbar and the Bacon Banned), a building (The Bacon Tower), whatever.
We'll draw one winner at random. The deadline to enter is Tuesday, August 28 at 6pm. The winner can pick up the basket at the Bacon Fest ticket booth.
Bacon Fest runs from 9 am to 6 pm on Sunday. Tickets are $10 ($8 ahead).
Very important: One entry per person. You must answer the question to be eligible. You must post your comment by 6 pm on Tuesday, August 28, 2012. You must include a working email address (that you check regularly) with your comment. The winner will be notified via email by noon on Wednesday August 29 -- and must respond by 8 pm Wednesday August 29. If prize basket is not picked up at the festival, only the packaged items will be sent to the winner.
AOA is a media sponsor of Bacon Fest NY.
Hi there. Comments have been closed for this item. Still have something to say? Contact us.