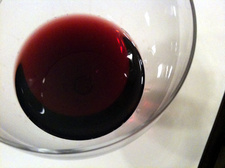 Agricultural fact of the day, via the NYS Comptroller's Office: New York State was the second largest producer of wine in the nation in 2010, behind only California. The state produced 36 million gallons of wine that year. And as of 2012, the Empire State has 374 wineries -- more than triple the number it had in 2000.
A few more state agricultural facts:
+ Agriculture in the state produces $4.7 billion in products per year.
+ Milk accounts for half the agriculture sales in the state. (New York is the fourth leading producer of milk in the country.)
+ The state produced 553.67 million pounds of yogurt in 2011 -- more than double the amount it produced in 2008.
+ New York continues to rank second in the nation in apple production.
+ New York is the nation's second largest producer of maple syrup.
+ And it's also the nation's second largest producer of cabbage.
There are more bits in the state comptroller's report, which was released for the State Fair.

Hi there. Comments have been closed for this item. Still have something to say? Contact us.