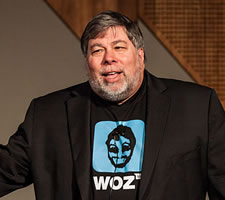 Apple co-founder and general uber nerd Steve Wozniak will be in town next week for two public events. On September 6 he'll appearing on a panel at GlobalFoundries in Malta -- "What's Next For Tech Valley?" (link added):
An esteemed panel featuring Steve Wozniak, [fiber optics inventor] Peter Schultz and local technology executives will discuss innovation and technology development in Tech Valley. The focus will be on driving economic growth and jobs for the next two decades.
The panel is from 3-4:30 pm. Tickets are $75 / $25 students (with ID). Proceeds will "benefit a local charity as directed by Steve Wozniak." Registration is required.
Speaking of charities, Woz will also be appearing at a fundraiser that evening at Proctors for Peaceful Acres Horses:
Enjoy hors d'oeuvres, a cash bar and conversation with personal computer inventor "The Woz," followed by a concert featuring the wonderful Canadian artist Ariana Gillis.
Tickets for that are $60.
Peaceful Acres is in the Pattersonville. You might remember that Woz was in the area a few months back visiting the horse sanctuary. [CBS6 YouTube] [via TU]