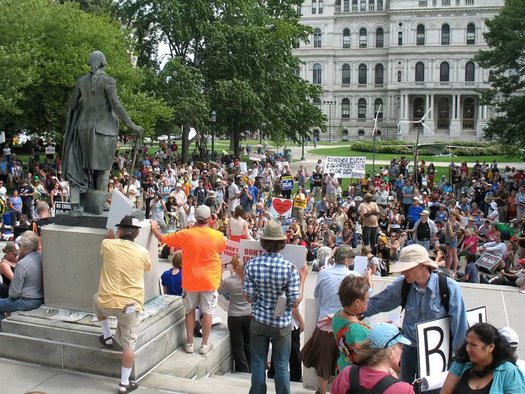 A crowd of about 1,000 people showed up in downtown Albany Monday to rally against hydrofracking. The crowd gathered in the Corning Preserve, then filled the block on Broadway in front of the the DEC building, moved up the middle of State Street, and finally to Capitol Park for a lineup speakers. [LoHud Albany Watch] [@JonCampbellGAN] [@JonCampbellGAN] [@_1134] [@AmandaSavarese]
The anti-fracking movement is fired up right now because the Cuomo administration's decision on whether to allow the natural gas extraction method is reportedly near -- and the word circulating is that the admin will allow some fracking in the state. (Cuomo played down those rumors recently.) Not surprisingly, much of the anti-fracking message today was directed at Andrew Cuomo. [CBS News] [TU] [Reuters]
The decision -- whenever it comes out -- will be a big deal.
Fracking has the potential to be an economic boon for parts of the state, especially some of the economically depressed parts in the Southern Tier. But it also carries significant potential environmental risks, particularly to drinking water (Dimock, Pennsylvania has become the poster town for these risks). [TU] [NPR] [Pittsburgh Post-Gazette]
Pro Publica has been tracking this issue extensively. And if you prefer it explained musically, here you go. [ProPublica] [ProPublica]
All this is happening in the context of a natural gas boom in the United States because of fracking. And that boom is having profound effects on the energy picture. Natural gas has become so cheap that it's looking like it could overtake coal as the leading source of fuel for generating electricity in this country, an unprecedented decline in coal's prominence. The increased role of natural gas has been credited with dropping the country's carbon dioxide output to its lowest level in 20 years (though skeptics have expressed doubts about how much credit natural gas should get). [NPR] [The Atlantic] [AP/NPR] [ThinkProgress]
Nothing with energy is ever simple. And more often than not, it's about making a trade-off between the not-good and the we-think-it's-not-as-bad.
____
More pics from today's rally are above in large format -- scroll all the way up.
Earlier and elsewhere:
+ The city of Albany passed a fracking ban earlier this year, after some political drama last year. Guilderland also passed a ban this year. [TU] [AOA] [TU]
+ Fracking has become a very contentious issue in some towns, such as Cooperstown. [NYT]
+ Brewery Ommegang said last year it was thinking about moving if fracking started near it. (Water is rather important to beer.) [Oneonta Daily Star]
+ What the frack is going on?
Hi there. Comments have been closed for this item. Still have something to say? Contact us.