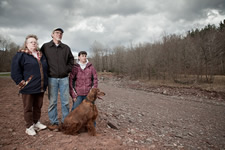 The Watershed Post has produced a package of stories about last year's Irene flooding called "Faces of the Flood." It's a collaboration between WP, photographer Christopher Auger-Domínguez, and staff and students from SUNY New Paltz's journalism program.
Here's a clip from one, about Bill Lonecke, who's house was swept away by the Batavia Kill:
I think people are frightened. I think people are angry. And I know people are frustrated. And I think the whole thing is communication. There appears to be a huge disconnect between the people who have been affected by this and the people who have some authority to fix it. Like when the Department of Environmental Conservation says: "Our policy is to let the stream find its natural course," and then it ignores you when you ask, "What about my house?" At the very least, the guy could have said something. I got nothing from the guy. He turned around as if I had insulted his entire family.
There are 12 profiles -- all interesting in some way.
photo: Christopher Auger-Domínguez / Watershed Post