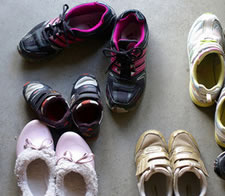 With growing kids -- with growing feet -- Amarit emails:
I recently learned that Junior Shoe Port is closing their Albany and Latham locations, meaning that the only Capital Region children's shoe store is in Clifton Park. For those of us in Albany, that's quite a hike to get shoes for our kids, especially since they don't all grow at the same rate or need shoes at the same time. ... I know it seems minor, but as a parent of three kids with weird feet (and not all the same kinds of weird), I need a place with knowledgable sales people who can properly fit my kid for shoes. Ordering online for them is very challenging. Since learning about this closing earlier today from an equally dismayed friend, a number of other parents have expressed their concerns as well.
The Times Union reported recently that, in addition to the Stuyvesant Plaza store closing, the Clifton Park Stride Rite is also headed for closure. So there will be even fewer options.
Got any ideas for Amarit and her kids? Please share!
photo: Flickr user tamakisono (cc)
Hi there. Comments have been closed for this item. Still have something to say? Contact us.