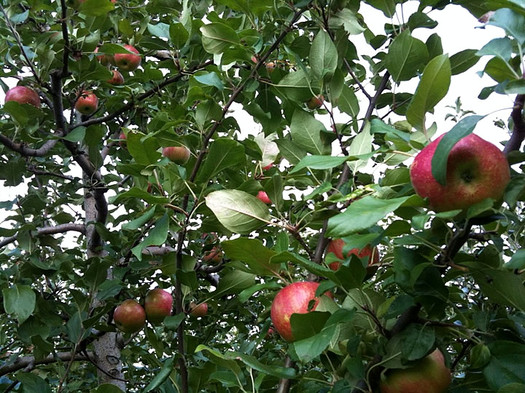 By Casey Normile
The last days of summer usually mean the start of apple picking season in the Capital Region. But this year's warm winter, as well as April frosts and summer hailstorms, have forced many farms and orchards to choose whether to open to fall crowds at all.
"For some farmers it was the hailstorms, for some it was hailstorms and the frost, and for some it was the hailstorms, frost and the drought," said Gillian Sherington, owner of Smith Farms in Hudson. "You name it, we had it."
+ AOA's listing/map of apple picking spots in the Capital Region has been updated for 2012.
Limited crop
Samascott Orchards in Kinderhook usually has over 60 varieties of apples in September and October, but only has about 10 percent of their usual crop to offer this year. They lost half in April to three nights of frost, and then most of the rest this summer to the drought.
"We have no Macs and no Honey Crisps left, but the later apples are better, they bloom later so they weren't hit as hard," explained Erin Graham, who has worked at the orchard for 5 years.

She said that with the extremely limited numbers, the orchard is still debating whether it's a good idea to open for pick-your-own, but if they do, it will be limited to weekends-only starting September 4.
Indian Ladder Farms in Altamont is in the same boat. A less-than-cold winter and warm March cost them 90 percent of their apples. "The trees decided it was spring so they blossomed in April instead of May," said Peter Ten Eyck, president of Indian Ladder Farms.
They can only offer apples on a first come-first serve basis on Labor Day weekend as well as the weekends of September 22-23 and October 20-21. He is also considering bringing in apples from other farms in New England that he knows as good, low-spray family owned farms.
Farms like Lindsey Idlewood in Rexford, The Farm at Kristy's Barn in Schodack, Hick's Orchard in Granville, and Billy Bob's Orchard in Putnam Station have decided to sell the few apples they have in their farm markets, but not offer pick-your-own. And Best Berry Farms in East Greenbush notes on its answering machine that customers should keep in mind that their supply of Gala and Honey Crisp are light.
Closed for the season
For some, the damage is even greater. Smith Farms in Hudson has no apple crop to offer pickers this season due to the hailstorms -- and only a few peaches, nectarines and raspberries. "It was not a good year," said Gillian. "I'm hoping that people will come out for our other fruits, but they know the quality is not the best from the storms, so we'll see."
Rider Farm in Germantown lost its crop in the April frost. "In a word, we're wiped out," said Robert Rider, owner of the farm. "We had 25-degree weather three nights in a row and it destroyed everything." Rider, 85, has been farming since 1950 and has never seen this kind of weather or damage before. He's not sure about the future of his farm.
Doing OK
For the determined you-pickers, there are still a few farms left unscathed. Golden Harvest in Valatie still has big plans for the season. Owner Alan Grout said that since every one of their apple trees is irrigated, "the effect of the drought was negligent." Their only damage came from the frost, but luckily most blossoms were spared. Their pick-your-own season starts in late September.
Mead Orchards in Tivoli "is in pretty good shape overall," said employee Linda Coyne. The hail and frost took all of their Fuji, Fortune, Candy Crisp and Red Delicious apples, but they still have plenty of others to pick. Their pick-your-own starts this Saturday (September 1) with Ginger Gold apples.
Bowman Orchards in Rexford was one of the few orchards not hurt by the weather, and says it has plenty of fruit. Right now, it havs Blondie, Gingergold, Gala, Greening, Macs, Sansa, 20oz, Paula Red, and Tydeman apples, as well as blueberries and raspberries ripe for the picking.
____
Here's a listing/map of many Capital Region spots for apple picking, updated for 2012. If you have a favorite place that's not on the list, please share. We'll add it.
Hi there. Comments have been closed for this item. Still have something to say? Contact us.