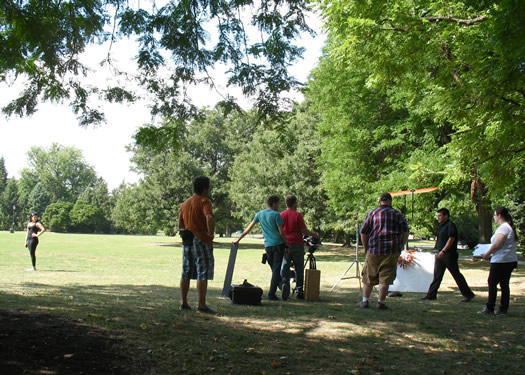 We were walking through Washington Park this week when we happened upon... a movie shoot. (You know, just a usual day in the park.)
The shoot was for an indie film called The Perfect Color, directed by local filmmaker Justin Halstead. The project raise more than 16,000 on Kickstarter earlier this year. It started production this week, the whole movie will be shot in Albany.
From the plot synopsis:
Chance encounters with Jane over the next few days force Bill to relive his past. The world seems to take on whatever color she happens to be wearing when he sees her. The more Bill gets to know her, the more he sees her imperfections. She's supporting a drug habit by shacking up with Bill's closest thing to a friend, RASHID, a raunchy loud-mouth with expensive tastes. This news brings Bill to the brink, the point of no return, where he must decide whether to retreat and continue living in black-and-white nothingness or accept Jane for who she is and take a chance on imperfect color of life.