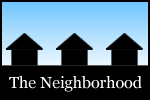 Among the topics in this most recent spin around the Capital Region's online neighborhood: the non-bogged-down summer, the Ice Cream Sandwich Throwdown, exceeded expectations at the fair, Saratoga, UAlbany students, beer with brunch, cardamom gelato, the Brown Derby, a farm stand, Oneonta-style, lobster roll, Etsy, bridges, Marimekko, a giant glob.
In Wynantskill "all that feeling sweaty, bogged down, and generally exhausted" stuff about adult summer "turned into a crisp, fresh, reinvigorated feeling" for Emily.
Daniel shared results from the Saratoga-Albany Ice Cream Sandwich Throwdown. Here's Jen's recap, and more pics from Christen.
Kristi returned to the Dutchess County Fair after 20 years -- and wasn't disappointed.
Dan listed 10 reasons "why Saratoga Springs is a wonderful municipality."
Nick welcomed the next generation of UAlbany students.
Cap2Cap shared the things she loves about the City Beer Hall.
Jerry enjoyed the cardamom gelato at Sage Bistro in Guilderland.
Steve bid farewell to the Brown Derby. And Scott and Emily made one last visit.
Mr. Dave packed up the fam for a trip to Jumpin' Jack's.
Silvia on her joy at a farm stand on Route 7: "I imagine my excitement was akin to the way folks feel at places like Trader Joe's, albeit on a much smaller (and local!) scale."
In honor of the re-opening of Pope's, the Idiots suggested an Oneonta-style slice (AKA, cold cheese).
Ashley suggests the brownie sundae at Harvest and Hearth.
Jessica has accompanied her dad on a tour of lobster rolls within five miles of his house. Brave.
Christine's annotated photos of her CSA vegetables are like farm share porn.
"Freshly squeezed" lemonade stand a the Track, FiS Dan is on to you.
Crystal shared photos from a craft party at Etsy's offices in Hudson.
Carl is highlighting the bridges of Schenectady County -- some from the "built-to-last" era.
Chuck's photo was on display at the State Fair.
The Exile shared a bunch of photos from a trip to Alexandria Bay.
Albaniana's family went to the Water Safari in Old Forge.
Stephanie is excited about the Marimekko store opening in Manchester, Vermont.
Leah is using Kickstarter to raise money to record an album of Jewish music.
And one of these days Jackie's going to plunge her hand in a giant glob in a pond and it will be a pond monster. (But not this week.)
Hi there. Comments have been closed for this item. Still have something to say? Contact us.