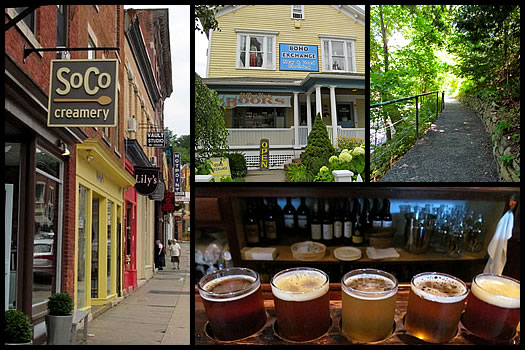 By Casey Normile
Road trips are pretty high on the list of fun things to do with a fall day in the Capital Region. A scenic drive on an autumn weekend can take you to mountains, lakes, wineries, cities, and small towns in time to explore, enjoy and be home in time to sleep in your own bed.
Great Barrington, Massachusetts is one of those places.
Lesson number one: Barrington and Great Barrington are not the same place. This may seem as obvious to you as it did to me, but for some reason every time I told someone from the Capital Region that I was going to Great Barrington, they said things like "have a good time in Vermont."
This quaint little Massachusetts town is a pretty common destination for people fleeing NYC or Boston for the weekend. The shops are eclectic, the food is interesting, there's plenty of nature -- and good beer.
The Trip
From Albany, the drive to Great Barrington is a little over an hour and most of it can be done on I-90. Once you get off the highway, it's a scenic trip on Route 41, past farms and adorable towns. A trip to Great Barrington offers some terrific opportunities for side trips to places like Stockbridge or, if you're in the mood for some shopping, the Prime Outlets in Lee.
Main Street
Our first stop -- Main Street -- included the perfect start to any day trip: breakfast at a café. There are plenty of places to choose from. The popular Martin's Restaurant is a town staple that serves breakfast all day and is located just off of Main Street. The funky Gypsy Joynt is right on the main drag and offers coffee and baked goods, although it's not the place to go for a if you're looking for a full breakfast. But to have a pastry and be entertained by wacky baristas, this is your place.
Ever the coffee shop fan, I chose Fuel. It's right on Main Street and offers a quiet place to sit and chat, eat, and have precious Macbook time. The menu offers baked goods, sandwiches, crepes, salads and hot dogs.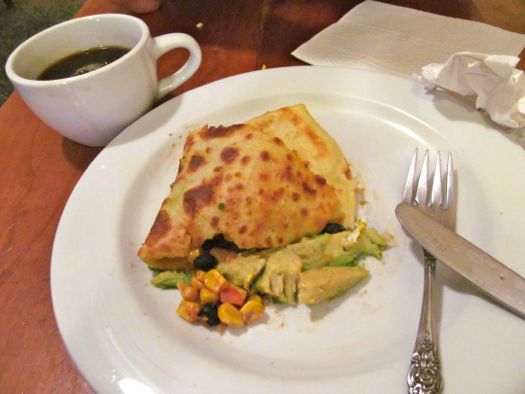 I ordered the Santa Fe crepe, with eggs, black beans, corn, salsa and avocado. The eggs were local. In fact, many of the café's ingredients were organic and locally produced, which is a common thing in Great Barrington. It's less a novelty, than the norm. The town is surrounded by farmland, so restaurants have the ability to support local farmers and producers while appealing to health-conscious natives and vacationers.

Another noticeable difference in Great Barrington restaurants: the interesting menus. Sure, there are some interesting restaurants in Albany, but a lot of Capital Region menus can start to feel eerily similar. In Great Barrington, not so much. Allium Restaurant, for example, offers breakfast radishes, pickled veal tongue salad, and a grass-fed locally-raised beef burger with Berleberg cheese. What you're getting is a little unfamiliar -- in the good way. Still, if you're just jonesing for a good pizza, you can find that on Main Street too, at Baba Louie's.
Walking the Main Street gives you a good sense of the town. It looks and feels like an updated Norman Rockwell painting. (And if it puts you in the mood for some more Norman Rockwell, the Rockwell museum is 15 minutes away.) There's a focus on good food, yoga, meditation and staying small. Great Barrington is a great place to get a cup of coffee window shop, explore the side streets, and allow yourself to wander.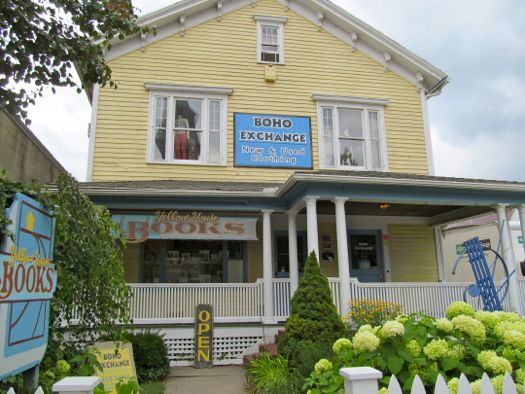 We stopped into Yellow House Books, which has been selling used and rare books for the past 21 years. While we were talking with the clerk, a couple came into the store and announced, "We're late for meditation, but we'll be back in later." As the door closed behind them, the clerk looked at me and said, "Well, there's Great Barrington for ya."
The Main Street also offers Rubiner's Cheesemongers. Go ahead, resist a name like that. I dare you. In addition to a plethora of cheeses, Rubiner's is a high-end grocery store that makes you feel a little bit like you're wandering through a little shop in France.
Keep wandering the area around Main Street and you'll find clothing and antique shops, pedestrians holding hands and walking their dogs, and even a hardware store. Not a Lowe's or a Home Depot, but a little indie hardware store like in the good old days.
And when you're done window shopping there's a nature walk that follows the Housatonic River. It starts next to the Rite Aid on Main Street.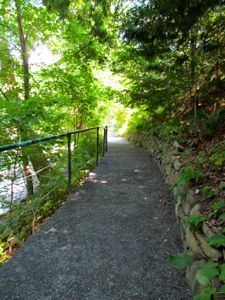 The Outskirts
After exploring Main Street, we headed up Route 7, also known as Stockbridge Road. We found Fountain Pond Park and the trail head to Monument Mountain -- a good idea for outdoor enthusiasts. But our destination was Windy Hill Farms for fresh blueberry picking. Blueberry season is over, I know, but they also offer apple picking in the fall.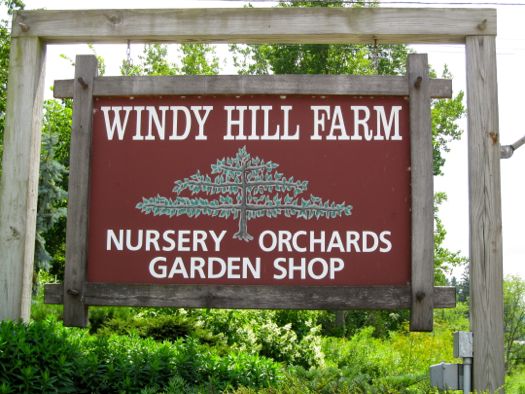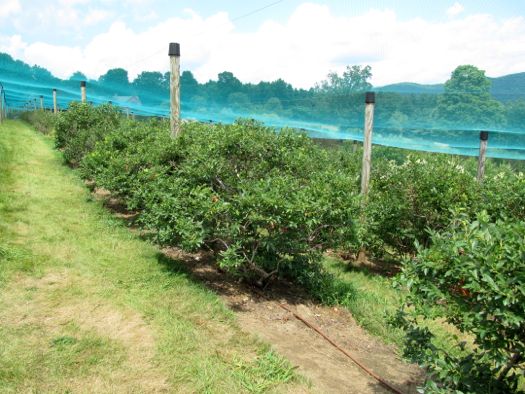 On the same road there's Home Sweet Home Doughnut Shoppe, the upscale Café Adam, and a Mexican restaurant called Xicohtencatl (the exterior will make you want to eat there, even if you can't pronounce the name).
We chose Riverbend Café for lunch. They offer healthy sandwiches and salads, great vegan and vegetarians options (vegans, get the veggie burger; vegetarians, get the soy BLT; amazing), and a juice and smoothie bar. The menu and backyard make it a worthwhile stop. We enjoyed our delicious food in a spacious and quiet yard overlooking the river. It was positively darling.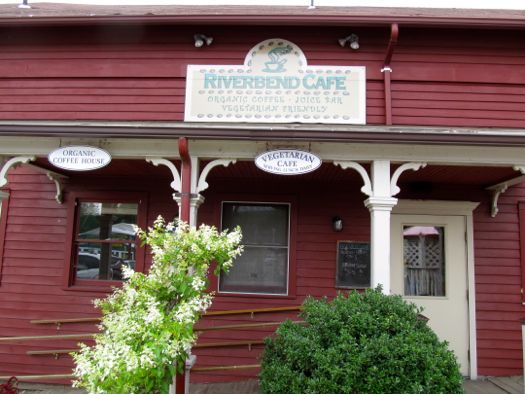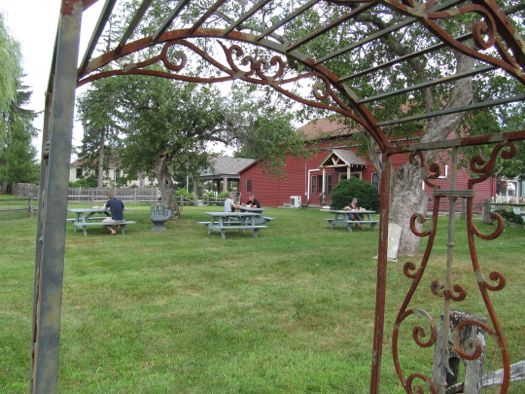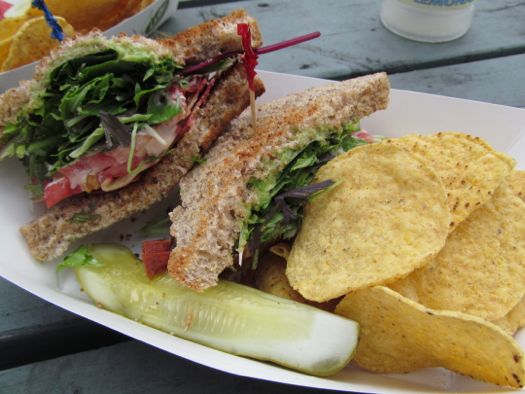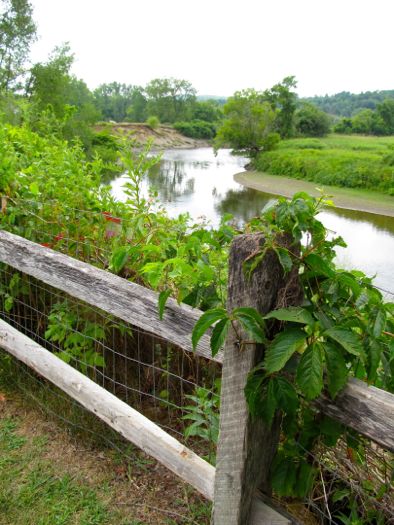 The parting glass
I'm a firm believer that you can't really get to know a town without trying its beer. So, before we left town we stopped at the Barrington Brewery and Restaurant, which is about one minute away from the café. And, in Great Barrington style, their hops all come from local farmers.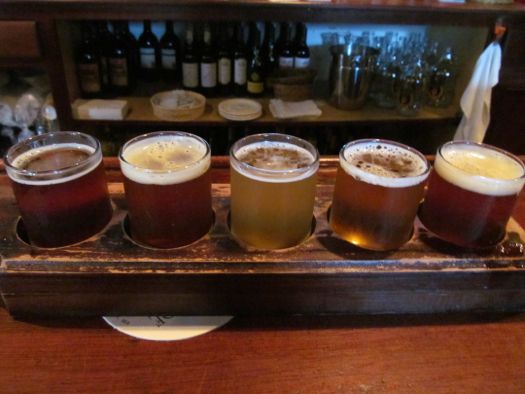 Barrington's Firecracker Ale and Black Bear Stout are pretty delicious. But one of the most interesting things about the brewery is what powers the brewing -- they use solar energy to produce 1,000 gallons of hot water everyday, saving energy.
Very Great Barrington.
Find It
A day in Great Barrington
Main Street
Great Barrington, MA 01230
Hi there. Comments have been closed for this item. Still have something to say? Contact us.