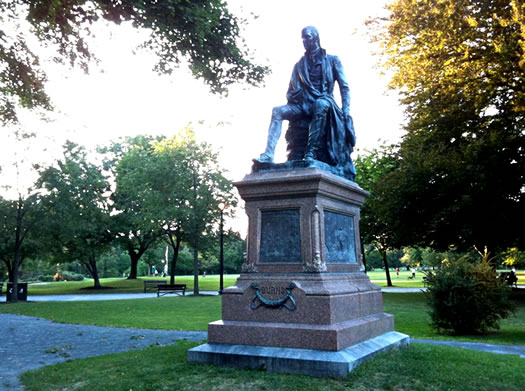 By Duncan Crary
You may have noticed there are quite a few Scottish people in the Helderbergs this weekend. They appear to be drinking heavily and throwing telephone poles around.
There's a lot I could say to shed a little light on these odd activities and all things Scottish and local. In fact, I've asked the publishers of this blog to let me do that. So pour yourself a hot toddy (if it's cold) or just a whiskey if it's not, and let's get to it.
1) Those telephone poles are called "cabers."
2) Scotch is a drink, Scots are a people, and Scottish is an adjective.
3) We're not Irish.
Albany is Scotland
Did you know? "Albany" is an English word for "Alba," the Scottish Gaelic word for Scotland. "Scotia" is latin for Scotland. And "Nova Scotia" means "New Scotland," where the annual Capital District Scottish Games are happening at this moment.
Scotch tape
Scotch tape was named so -- pejoratively -- because it is cheap. Scots are said to be "thrifty." Ever wonder why the only duck in Duckburg more tightfisted than Scrooge was his tartan-wrapped, R-rolling nemesis Glomgold? (You haven't truly arrived as an ethnicity in this country until Disney anthropomorphizes your stereotypical behaviors!)
In Troy, where I live, it was Scottish-born entrepreneurs, like Henry Burden and the Rosses, who brought in the big bucks to build all those great old buildings that attract young hipsters today. And I'm sure those old Scots were concerned with the bottom line.
When thistle and shamrock tangle
I admit, we have some things in common. But it gets a little crayyyy when the Irish and Scots clash -- especially here in the Collar City. Ask any of the Lilies I've tangled with and I'm sure they'll ya all about that.
Yeah, the Irish have been in New York since the British arrived. For the most part, the Scots got here a long time before everyone's famished Irish great-great-grandpappys-and-mammys arrived. We Scots weren't so eager to give up our hard-won turf to Celtic cousins from the Emerald Isle. We still aren't.
The "Trial of Bat Shea," which followed the murder of Trojan Scotsman Robert Ross, is one infamous example of the old Thistle 'n Shamrock jig. (That huggy battlefield scene in Braveheart? Never happened.)
A Scottish ghost in the Adirondacks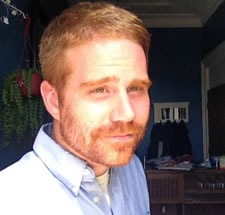 My name, Duncan Campbell Crary, is as Upstate New York Scots as it gets.
The Crarys are a small Scottish tribe found only in North America. Maybe you've spotted a Craryville or Crary Mills on your Google Maps app. "Crazy" is a common prefix attached to our surname.
"Duncan Campbell" is more significant. The eerie demise of my namesake was the most famous of all New York ghost stories, at one time.
One night in Scotland this unfortunate soldier found himself bound to protect the murderer of his own kinsman. In spite of three visits from the ghost of his murdered cousin, proud Duncan would not go back on his word to avenge the spirit. (Campbells are just like that.)
"We shall meet again at Ticonderoga," said the fading spirit. A strange word indeed.
Soon, Major Duncan Campbell of the Black Watch received orders to fight for empire in the far off forests of Northern New York. His final destination: a peculiarly named fort at the southern end of Lake Champlain. He did not survive the bloody night.
Robert Louis Stevenson in Upstate
Robert Louis Stevenson -- the guy who wrote Treasure Island, The Strange Case of Dr. Jekyll and Mr. Hyde, and other prepubescent boyhood wet dreams -- was a famous Scottish author. He heard Duncan's ghost story while in the Adirondacks, taking "the cure" for tuberculosis in Saranac Lake. And he wrote a pretty popular poem based on it.
While he was here, he also snuck some other Albany and Adirondack settings into his greatest novel, The Master of Ballantrae. In a whirlwind of action, the protagonist of that story globe trots from the Scottish Civil War of 1745, to the Caribbean, to Colonial Albany, to Quebec, to India, and finally returns to the snowy New York mountains to meet his fate. Another Scotsman lost to that primeval wilderness.
The Bobbie Burns statue
One of the favorite gathering places for Albany bohemians to recite their poetry is at the feet of a very good Scottish poet, Robert Burns. You know that song everyone sings at New Year's Eve and no one understands what the hell it means? Bobbie Burns wrote that.
He never visited Albany (I don't think), but his statue in Washington Park was put there in honor of the Scottish stone carvers who adorned our magnificent Capitol. Those impressive red granite pillars in our stately Senate chambers come from their native lands, too.
It's pronounced Oban
Quick lesson for all Capital Region bartenders and servers: That very expensive whisky I order on other people's tabs, and that you never fail to correct ("You mean Oh-BANN?") my pronunciation when I do? It's "OH-ben." It really is.
The right to roam
The law of trespass is a foreign notion in Scotland, imposed by English wankers on their fancy weekend estates. But there is an ancient Right To Roam that all Scots are entitled to exercise in their bonnie homelands. Two rules make the law: shut the gate and leave nothing behind.
I practice that custom anywhere my ancestors spilled their blood -- and they spilled enough in this place. So, to the amicable one who alleges to work for the City of Troy, and who kicked me out of our new Riverfront Park at dawn: The ginger lad will be back. He will always come back.
Heather honey
Lastly, we Scots do tend to practice the Right To Roam in affairs of the heart, as well, and it's certainly gotten me into quite a bit of trouble over the years. But we always shut the gate when we leave. Honoring the second rule... well that's not so easy in love.
It takes courage to play with us. We'll step to any man, woman, or giant. And whether we win or get knocked down, no one ever touches us with impunity. We are a people as colorful and attractive as the flower atop the thistle. But it's our thorns that protect us. Only those with deliberate hands can pluck us from the wild.
Think you want a taste of the heather honey and peat? Then look for us whenever that old drone of the bagpipes takes to the air.
Duncan Crary lives, works and plays in Troy, NY. He is an author, podcast producer and publicist. DuncanCrary.com | facebook.com/DuncanCrary
Say Something!
We'd really like you to take part in the conversation here at All Over Albany. But we do have a few rules here. Don't worry, they're easy. The first: be kind. The second: treat everyone else with the same respect you'd like to see in return. Cool? Great, post away. Comments are moderated so it might take a little while for your comment to show up. Thanks for being patient.