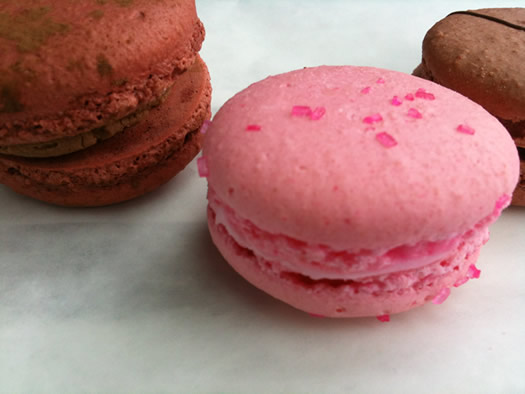 By Daniel B.
Say goodbye to cupcakes and bonjour to macarons.
Cupcakes make me crazy. Anyone can throw together a few ingredients in a mixing bowl and turn out a passable cupcake. The same goes for buttercream. Yet people line up to spend outrageous sums on these sweet, fanciful treats. Sure, the better cupcakeries are creative with their flavor combinations and decorations. These are seen as small indulgences. I get it.
But French macarons fill a very similar niche. These light and delicate meringues encase a sweet and creamy filling in creative flavor combinations and vibrant colors. Some are decorated, while others stand unadorned, strikingly beautiful in their simplicity. Except they are only deceptively simple, because to make them well takes a lot of time and care.
These too are small indulgences. The difference is that they are truly a treat.
It has been difficult to find a wide selection of French macarons in the Capital Region. But for the last eight months, TC Bakery -- hidden in plain sight -- has been filling its case daily with impressive versions of the form, trying to bring a bit of Paris to Albany.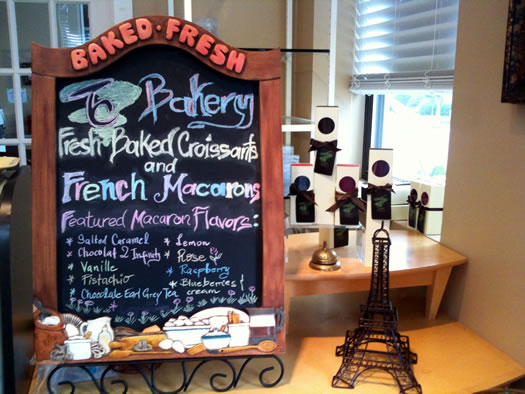 If you're a regular customer of The Chocolate Gecko, you might already know about TC Bakery. It shares space in the uptown Albany chocolate shop, and makes its pastries on site in the Gecko's kitchen.
If you haven't heard of the bakery, there's good reason. It doesn't do wholesale. It hasn't expanded to farmers' markets. It hasn't done any advertising or public relations. And the people behind the bakery operate on a first name basis -- executive chef Paul, chef Richard, assistant chef Theo, assistant chef Christine, and so on.
Executive chef Paul says the group all have day jobs, and in making every effort to not let the bakery affect those jobs, they've kept a low profile. He says that's allowed them to focus entirely on the food. They just want to make good food with great ingredients. And they have fastidiously tested different chocolates, cocoa powders, butters, creams, flours, techniques and formulations to come up with their recipes.
The macaron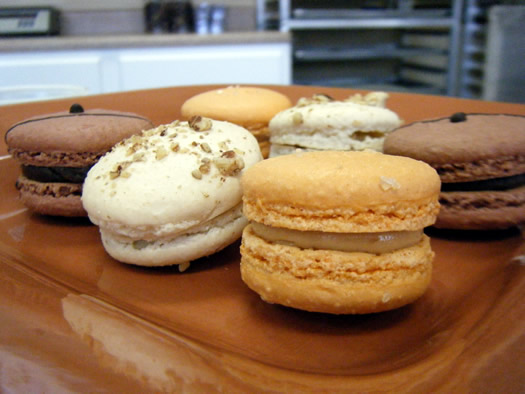 At the heart of it all is the French marcaron.
The French innovation is to take two Italian meringue cookies and sandwich them around a sweet middle layer. The meringue combines almond flour, egg whites and sugar. But for the outer shell of the meringue to be thin, crisp and brittle, with an eggshell-like finish, the sugar needs to be heated in a water solution to a precise temperature and added to the egg whites just before they peak. If the temperature or the timing is off, even by just a little bit, they won't come out correctly.
This is apparently how the meringue is made at Ladurée in Paris and other places that do it right.
TC Bakery believes it is their fillings that differentiate themselves from other more famous places. The buttercream fillings are made with Plugrá butter. The chocolate ganache is made from Valrhona chocolate. They make their own vanilla, almond, orange and lemon extracts in house. Oh, and they also make their own caramel from burnt sugar, butter, and cream. And that stuff is amazing.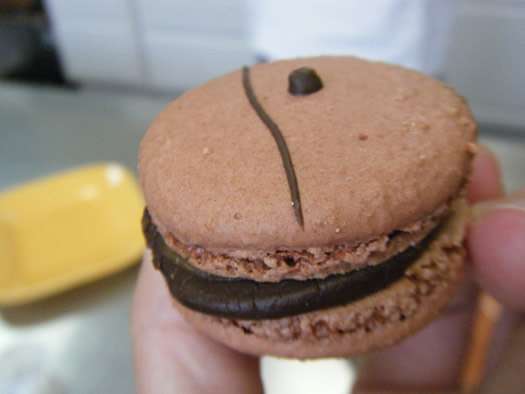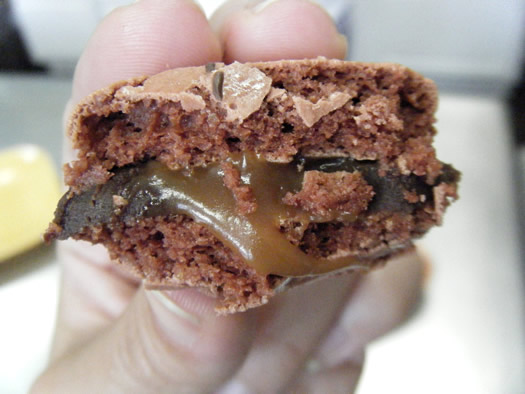 When the meringue shells have cooled, these fillings are judiciously piped to the edge of each cookie, assembled into a sandwich, and cured. The macaron has to rest for 24 hours for the flavors to meld, and the textures to set before it can be sold. Every morning, seven days a week, a fresh batch of macarons goes into the case. What doesn't sell at the end of the day gets tossed.
If only all our local cupcake bakers were so fastidious.
But the fun of macarons is in their flavors. The three most popular at the bakery are chocolate caramel, salted caramel, and pecan praline. While those are made every day, they also sometimes sell out. More exotic flavors include rose and purple yam. They are working on a vanilla and olive oil macaron, and plan to offer a caramel apple one for fall.
My vote is for anything that contains their rich buttery caramel.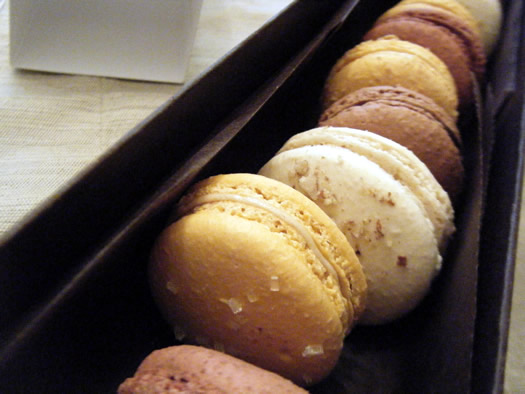 Now, much like cupcakes, these macarons don't come cheap. Each delicate morsel will set you back $2.50. And they are a good bit smaller than cupcakes, but they are also infinitely more special.
You can take your macaron to go, or sit down in one of two easy chairs, and try to imagine yourself in Paris. It's easier on Friday, Saturday and Sunday when the TC Bakery crew is playing French music. On Saturdays the bakers also have a penchant for taking customers into the kitchen and sharing what they are working on. That could include pairing their own croissants with French jam and cheeses from the Honest Weight Food Co-op, or even sampling some Badoit sparkling water they are attempting to source from France for the shop.
My selfish desire is that once you stop in for a macaron, you'll never want a cupcake again.
Daniel B. is the proprietor of the FUSSYlittleBLOG.
Thanks to Albany Jane for photos.
Find It
TC Bakery
21 Colvin Ave
Albany, NY 12203
Inside the Chocolate Gecko.
Say Something!
We'd really like you to take part in the conversation here at All Over Albany. But we do have a few rules here. Don't worry, they're easy. The first: be kind. The second: treat everyone else with the same respect you'd like to see in return. Cool? Great, post away. Comments are moderated so it might take a little while for your comment to show up. Thanks for being patient.