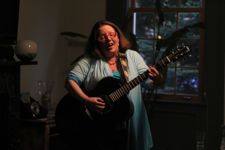 It's Monday, time for another WEXT My Exit show -- where the listeners get to pick their own playlists.
Here's a look at what's coming up tonight:
Who?
I'm Victoria Bouffard from Broadalbin. I grew up here, left for a while, and moved back in 2010. I'm a songwriter and singer, planning my second album.
How would you describe your taste in music?
I like everything that's good.
I was one of those geeky kids who listened to records all day, I even used to memorize the top 40 countdown at one point. But my favorites changed every few years, leading to an ever expanding collection of records (and later, CDs). Growing up I watched Hee Haw and Lawrence Welk and The Midnight Special, and it all made sense. In high school I loved Donna Summer, Barry Manilow, and Stravinsky. In college, it was Yes, Duran Duran, and Ralph Vaughan Williams. After college, I discovered Elvis Costello, Bruce Cockburn, and Lowen & Navarro.
What I was always most interested in, though, was the songwriter. Especially the ones who seemed to have their names on all the good records. They were the ones with all the secrets, they seemed to know some code I always wanted to crack. One of them wrote three of the songs in the show.
I know what I like when I hear it, and it doesn't always make sense on the surface. But underneath, all the music I love the most does have common threads running through it, in sound and in message. It's where we hear truth and where we try to make sense of this world. It's not just the soundtrack, sometimes it's the whole story. I kept that in mind as I picked my song list.
A few songs from Victoria's My Exit:
"Some People" by Peter Mulvey
Basically, "it takes all kinds." This song is clever, and funny, and true, it's got great melody and movement, and it just plain sounds fantastic. Peter's equally talented at writing, performing, and covering other writers. It's just not fair. I catch his shows as often as I can.
"Hero's Almanac" by Beth Wood
I've heard it said that you should "never meet your heroes." I wholeheartedly disagree. The first time you learn that they're only human, same as you, well, that's about the most important lesson you can learn from that encounter. I saw Beth Wood perform only once, about 15 years ago, and this song has stayed in my head all that time. I still don't know who she was talking about, and it doesn't matter. She gets it, and explains it perfectly.
"Sweet Mistakes" by Ellis Paul
This song was in the movie Shallow Hal. That's not why I picked it. Our mistakes make us who we are, just as much as all the "right" things do. I've got an autographed champagne bottle in honor of this song that's survived 10 years and several moves. I used to go to so many Ellis Paul shows that I once had a dream that he yelled at me to go home and write my own songs. I told him the story this year and he said "I wasn't yelling at you, your dream was."
"Just This One Time" by Jimmy Webb
Recorded in 1974, but I never heard it until last fall. It surprised me with its out of control singing and Electric Light Orchestra type production. But I couldn't help listening to it again. And again. And again. Until the shock wore off. I wondered how anyone could let anything hurt that much, and have the guts to express it. Some friends have said it sounds angry, I say no, that's the most beautiful and honest singing you may ever hear in your life. You might have heard Cher or Glen Campbell sing this song, they both recorded it, but they didn't feel it like this. People should hear this song. Lots of people. It's on my permanent setlist.
"Wichita Lineman" performed by David Goodrich
An instrumental of the Jimmy Webb classic. Almost every musician I know has this song on their "I'd like to learn that song" list. I like this version because there are no words to get in the way, so you can hear the music differently. David Goodrich also produced and performed on the Chris Smither and Peter Mulvey tracks during the show, so it ties it all together nicely.
You can hear Victoria's My Exit show Monday night at 8 pm on 97.7 or at exit977.org.
Here's how to schedule your own My Exit show on WEXT.
Say Something!
We'd really like you to take part in the conversation here at All Over Albany. But we do have a few rules here. Don't worry, they're easy. The first: be kind. The second: treat everyone else with the same respect you'd like to see in return. Cool? Great, post away. Comments are moderated so it might take a little while for your comment to show up. Thanks for being patient.