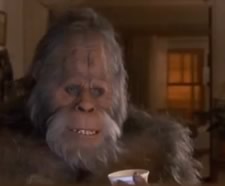 Via Jessica R comes this Craigslist job posting for a research assistant, which she describes as the "post of the year":
Not for profit organization, located in Whitehall, NY is a high-energy, team-oriented research entity that is involved in the tracking, documenting, and study of cryptozoological creatures, with a deep interest in the study and search of bipedal primitive apes.
We seek an experienced researcher with a deep understanding of crypto zoology, primatology, with a good background with scientific research and interest in great apes. The ideal candidate must be able to work both autonomously and as part of a large team. The individual must also be able to solve problems creatively, communicate effectively, and collaborate well with project leaders and team members.
Duties and Functions:
• Develop actionable tracking program in designated geographic area.
• Investigate, document and interview individuals with reported Bigfoot sitings.
• Occasional travel to remote areas of Adirondacks including spending several nights in the wilderness, checking motion cameras, collecting hair and dung samples for laboratory analysis amongst other related activites.
• Must have own transportation, four-wheel drive a plus.
** Serious Inquiries only **
Compensation: based on experience, this is a grant funded position and is expected to last 6 months with the possibility of renewal.
What? Didn't you know that Washington County is a hotbed of bigfoot activity? Wake up and hear the tree thumping.
Modern reported sightings of sasquatch in the Whitehall area date back to at least 1976, though some claim old Native American stories include references to the creature. (Here's a listing of reported sightings in New York as collected by the "Bigfoot Field Researchers Organization.")
From a 2008 article in the Post-Star:
For Whitehall, the pivotal year for sightings seems to be 1976. The country was celebrating its bicentennial, but Bigfoot was the local center of attention that summer and fall.
[Paul] Bartholomew details the encounters in his book.
On Aug. 24, three Whitehall teens reported seeing a 7-to-8-foot-tall brown, hairy creature in a field off Abair Road. The teens allegedly saw the figure two times that night. They also claimed to hear a noise that sounded like a "cross between a woman screaming and a pig squealing."
The next day, a farmer found "big, human footprints" nearby and a ravaged deer carcass.
That night, a local off-duty police officer, who was a brother of one of the teens, went to the site with a New York State Trooper.
Around midnight, the police officer spotted a pair of red eyes reflecting off his headlights. He shut off his lights and radioed the trooper, who put a spotlight on some nearby bushes.
The police officer said he turned his headlights back on when he heard something crashing through the shrubs. He claims to have seen an almost 8-foot-tall creature that he estimated weighed 400 pounds.
He didn't fire his gun because he said the figure looked too human. The creature then vanished into the bushes.
Later that year, a village police sergeant reported hearing an "eerie, high-pitched yell" while hunting in the same area.
A few days later, a man from Granville reported shooting at "Bigfoot."
It appears that Whitehall's more recent claims to bigfoot fame can be attributed to Paul Bartholomew. He's the author of a book about the creature -- Bigfoot: Encounters in New York & New England. And he was responsible for a Whitehall town law passed a decade ago that protected bigfoot habitat. There's now a sasquatch statue in in the town.
As it turns out, the whole southern end of Lake Champlain is apparently sasquatch territory -- Animal Planet was in Rutland earlier this year for a show about the topic. It must be hard to produce such a program when your star is so, you know, reluctant to appear on camera.
screengrab from Harry and the Hendersons via YouTube
Say Something!
We'd really like you to take part in the conversation here at All Over Albany. But we do have a few rules here. Don't worry, they're easy. The first: be kind. The second: treat everyone else with the same respect you'd like to see in return. Cool? Great, post away. Comments are moderated so it might take a little while for your comment to show up. Thanks for being patient.