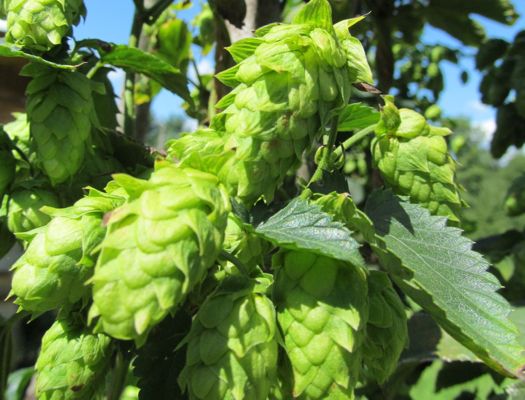 By Casey Normile
Beer enthusiasts showed up Brown's in Troy last week for the release of the brewery's annual fall Harvest IPA brew. What's so special about this brew? Well, for one thing, the hops used in the beer were grown right here in New York.
Brown's is part of a growing movement to restore New York to what it once was -- one of the country's leading hop producers.
What is a hop?
Sure, you hear about hops in beer ads, but what exactly are they? And how do they affect the taste of your beer?
Hops are floral buds grown on the bines (not vines) of a climbing herbaceous plant. (They're in the same family as cannabis.) They're used to flavor beer -- they have a tangy, bitter flavor that balances out some of the other flavors in beer. [Wikipedia] [Wikipedia]
Gregg Stacy, the VP at Brown's, says the best way to get to know the taste of a hop, and how it affects a beer, is to taste a beer with very little hop content, like a pilsner. Pilsners, he says are malty and "cereal-ly." You can then compare the absence of strong hop flavor against a beer in which they're move pronounced, like an IPA.
Speaking of IPAs, hops also can act as a preservative and stabilizing agent in beer. Part of the lore of the IPA -- the India Pale Ale -- is that it was strongly hopped (and had high alcohol content) so that it would survive the trip between England and India. That may not actually be true, but it makes a good story. [Wikipedia] [Everday Drinkers] [Zythophile]
New York hops
Before the Civil War, New York State grew as much as 90 percent of the hops in this country. And the hop hotbeds were just to the west of here -- in Otsego, Madison, and Schoharie counties. (The Busch family -- as in Anheiser-Busch -- owns an estate in Cooperstown because of the area's former hop prominence.) Outbreaks of disease and pests hurt growers, and Prohibition pretty much finished off the industry here. Now the large majority of hops in the country are grown in Washington, Oregon, and Idaho. [Cornell News] [WSJ] [This is Cooperstown] [USDA]
But in the last few years there's been a push to re-start the hop industry in the state. There's now a group promoting the cultivation of hops -- and their use by craft brewers: the Northeastern Hop Alliance. And it counts a handful of farms among its members. [NYT]
"There's a history for it, it's perfectly doable," says Stacy, "It's Brown's philosophy that people should be able to drink local and to source local, so we try to promote that as much as possible"
Harvesting local hops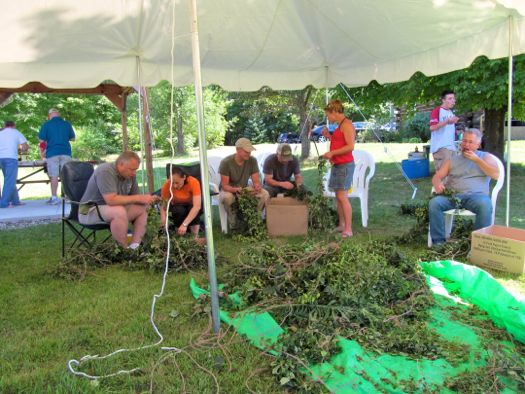 Toward that end, in mid-August Brown's brought a group of friends and family to Groveside Natural Farms in Johnsonville, in Rensselaer County. And for the seventh year in a row, they joined farmer Tom Riley in harvesting his hops for Brown's Harvest IPA. The beer also includes hops from Climbing Bines Hop Farm in Seneca Lake.
The hops were used only two or three days later to create a "wet hop brew," which Brown's head brewer -- Peter Martin -- says results in a "fresh, hop-flavored beer with little bitterness, but a strong aroma."
Growing
At the moment, only 1 percent of Brown's hops come from local farms and the same applies to most New York craft breweries. The state only grows about 60 acres of hops. (For comparison: Washington State harvested almost 30,000 acres in 2011.) But that's up 400 percent over the last two years. [NY Farm Bureau]
And recently passed state legislation is providing incentives for the industry to grow. A package of bills signed by Andrew Cuomo this past summer includes a provision allowing for a "Farm Brewery" license that includes a bunch of benefits -- if the brewery uses products grown in New York State. Until 2018, 20 percent of the hops and 20 percent of the other beer ingredients must been grown in the state to qualify. And that cut-off climbs over the next decade, when it hits 90 percent in 2024. [Cuomo admin]
That has people thinking the future is bright for hop farming here.
"Hops are the one crop I can guarantee farmers that they'll sell everything they grow," says Beth McKellips of the Northeastern Hop Alliance. "Farmers, public officials, and private businesses are coming together to rebuild an industry."
Say Something!
We'd really like you to take part in the conversation here at All Over Albany. But we do have a few rules here. Don't worry, they're easy. The first: be kind. The second: treat everyone else with the same respect you'd like to see in return. Cool? Great, post away. Comments are moderated so it might take a little while for your comment to show up. Thanks for being patient.