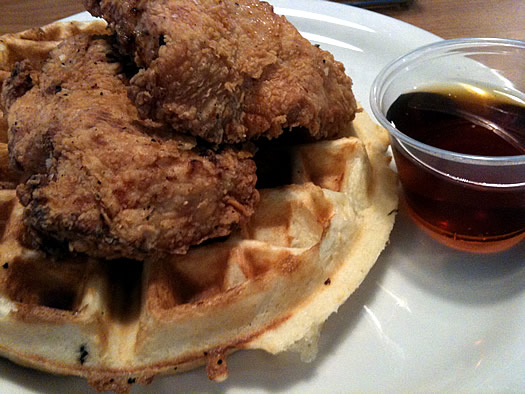 By Daniel B.
Good fried chicken can change your life.
This is what happened to Ian Michael Hunter when he went south last winter on vacation and sunk his teeth into something crispy, salty, and wonderful. As a new year's resolution he vowed to bring this food to Troy. Ian looked around and saw other fried chicken joints in the Capital Region. He points out, "[In] Troy itself we don't even have a Golden Fried chicken, so I figured it would be a good place for it."
Inspired by the success of The Brown Bag and a love for the restaurant business, Ian scraped together the start-up capital with help from his family and connected with Culinary Institute of America-trained chef and fellow Troy resident Josh Coletto. In July they opened their doors. Since then, The Flying Chicken has been getting a lot of positive attention.
Don't be fooled. This is no ordinary fried chicken place. Even Ian admits that with Josh in the back of the house the food "came out better than I could have imagined."
Recently I visited with Noah Sheetz to meet his friend Josh (both CIA graduates and participants in the Chefs Consortium), try his food, and find out two things:
What is a CIA-trained chef doing at a counter service fried chicken restaurant? And what makes his fried chicken and waffles so damn good?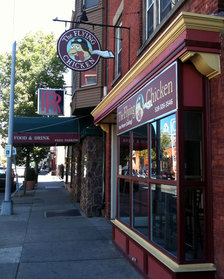 Before going any further, let's talk about chicken and waffles.
The first time I tried this combination was in Oakland, California at the northernmost outpost of Roscoe's House of Chicken and Waffles. The Bay Area location of this West Coast soul food institution is long gone, but the memory of savory fried chicken, with a crisp waffle and sweet syrup lingers in my mind. It's one of those things that may sound strange at first, but once you've eaten all the ingredients together, it just makes perfect sense.
I was a bit worried when I found out that the fried chicken used in the Troy version of the dish was boneless chicken breast, as these have a way of being dry and tasteless. At Roscoe's the fried chicken was served on the bone. Bone-in meats are inherently more flavorful than their boneless counterparts. But the boneless chicken at The Flying Chicken is juicy and delicious.
All the fried chicken is soaked in a brine of sugar, salt, blackened onions, guajillo chilies, thyme, and bay leaves for twelve hours. Then before getting its breading, the chicken is soaked again in buttermilk for a couple hours more. The coating itself is seasoned with paprika, cayenne, garlic, black pepper and dried parsley. Finally these precious poultry parts are lowered into a deep fat fryer and cooked until crispy and golden on the outside, all while keeping the insides tender, juicy and full of flavor. That's no small feat.
On the brine, Josh says, "[it's] almost as if I were making a stock that I would do, but with a few different flavors. I really love the guajillo chilies, I use those in everything." The flavor of the brine comes through on the boneless breasts, and you get two of them on top of a large yeasted waffle.
That waffle also flies in the face of tradition. It's a large, thick one, instead of the thinner style I enjoyed out west, and it's delightfully tangy. As it so happens, this is a yeasted waffle, which also has a story.
Josh got the recipe for the yeasted waffle from a southern/soul-food restaurant where he worked after graduation. It was the Screen Door in Portland, Oregon, and it sounds amazing. Granted, it's not actually in the south, but the owners hailed from Louisiana, so they were able to call upon their southern roots in developing their menu.
Also while in Portland he worked at a place called Clyde Common, which he describes as a kind of gastropub. There he was responsible for a number of dishes, one of which was the chicken fried chicken liver.
I really really hope those find a way onto the specials menu at The Flying Chicken. Really.
Lucky for us, Josh decided to come back home. He's also a drummer and reunited with his band Girls of Porn (don't google it). There was only one problem. As he puts it, "I didn't want to work in any of the fine dining places in Albany because I just don't like the Albany fine dining scene really. I just really like good simple food."
So Josh took a few unusual jobs at a couple of the best places in the region: Caffe Vero and Old Chatham Sheepherding Company. He explains, "I really wanted to learn how to make really nice coffee and espresso, and now I know. It's the same thing with the cheese."
When the opportunity came to work with Ian, Josh was in the kitchen at McGeary's. When asked about how his culinary training is put to work at The Flying Chicken, Josh responds, "With this I've just taken basic ideas that I've seen in the past and kind of putting my own twist on them; just keeping it very simple, like hearty homestyle food."
The chicken and waffle plate will only set you back $8 (if you splurge for real maple syrup). But if you want to go ala carte, and go old school with chicken on the bone, you can buy the fried chicken by the piece and the waffle alone costs a measly $3. And the chicken on the bone is also amazing.
So are the biscuits with house-made sausage gravy. These are the best version of the form I've had in the region. Better than Jake Moon. Better than Manory's around the corner. Really these are in a whole different league than either of the aforementioned institutions. The homemade biscuits are rich, with an assertive butter flavor, and a great crisp exterior. The gravy is hearty, surprisingly light on the palate, and contains sizable chunks of savory pork sausage. It's a bargain at $5.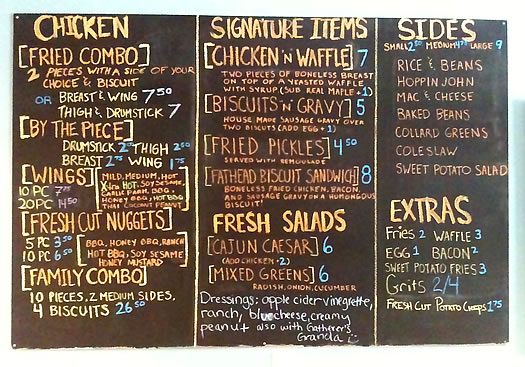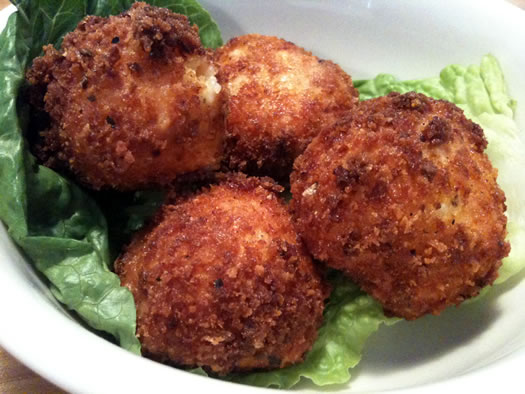 The Flying Chicken also excels at little fried things. The scallion and cheddar hush puppies (6 for $4.25) and deep fried mac 'n' cheese balls (5 for $2) are both solid. But the grits fritters (4 for $2) -- stuffed with a little bit of andouille sausage, and plenty of cheddar -- are a knockout.
Like the Brown Bag, this place is apparently packed late at night, well past my bedtime. However for lunch on a weekday, it's still remarkably tranquil. On multiple visits I've had no difficulty getting street parking nearby. With several tables and two short counters, there always seems to be plenty of places to sit. And there is even a pinball machine to play while you wait for your food to be prepared.
As luck would have it, The Flying Chicken is even participating in Troy's first Restaurant Week, which is going on right now, so you can sample their chicken and waffles with a side and a soda for just $10.
But you would be a fool to not try their southern style sweet tea. It is brewed from Luzianne tea bags, and made with so much sugar it's beyond sweet. It actually tastes like sugar. This is what you drink with fried chicken. Diabetes be damned.
Daniel B. is the proprietor of the FUSSYlittleBLOG.
Find It
The Flying Chicken
122 4th Street
Troy, NY 12180
Say Something!
We'd really like you to take part in the conversation here at All Over Albany. But we do have a few rules here. Don't worry, they're easy. The first: be kind. The second: treat everyone else with the same respect you'd like to see in return. Cool? Great, post away. Comments are moderated so it might take a little while for your comment to show up. Thanks for being patient.