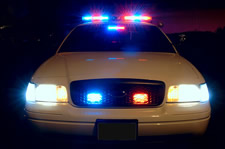 If you follow Capital Region news somewhat closely, one of the things you'll notice is how often people get arrested for multiple DWIs (we didn't have to look hard to find those). It seems to happen with depressing regularity.
Of course, this isn't just a problem in this area. Today Andrew Cuomo announced new state regulations that are aimed at keeping repeat drunk and/or drugged drivers off the road (or at least taking their licenses away). The new rules are listed after the jump. In short, they include:
+ The DMV will now be allowed to review the lifetime record of drivers who apply to have their license re-instated.
+ If the DMV determines the person has five or more alcohol or drug related driving convictions in his or her lifetime -- or a combination of three convictions and other offenses -- the DMV can permanently revoke their license. (Permanent revocation wasn't previously allowed.)
+ Allow the DMV to make sure a temporary license revocation lasts the full six months or a year. (Apparently it was possible to get a temporarily revoked license back after as little as seven weeks previously.)
The Cuomo admin says there are currently 50,000 people in the state with with valid or suspended licenses who have three or more alcohol-related convictions in their lifetimes -- and more than a third of them have been involved in crashes that killed or injured someone. It figures the new rules will permanently revoke -- or delay -- the licenses of 20,000 people this year.
Not mentioned in the announcement: treatment. Some people who get stopped for DWI just made a stupid mistake and probably won't repeat it. But others -- and we suspect a lot of the repeat offenders fall into this category -- have an addiction that needs treatment. When you show up drunk to a STOP-DWI Victim's Impact Panel, you probably have a serious problem. We're curious if there's a way to better help these people.
In other news: computers apparently can drive cars pretty well. [WSJ]
photo: Flickr user davidsonscott15 (cc)
New rules for multiple DWI offenders
From the Cuomo admin press release:
The regulations call for:
Lifetime Record Review by DMV
DMV will be able to review the lifetime record of all drivers who apply to have a license reinstated after a revocation.
Truly Permanent License Revocation for Persistently Drunk & Dangerous Drivers
After conducting a lifetime record review, DMV will deny any application for reinstatement of a license after revocation if the applicant has:
+ Five or more alcohol or drug related driving convictions in his or her lifetime or
+ Three or more alcohol or drug related driving convictions in the last 25 years plus at least one other serious driving offense during that period. A serious driving offense includes: a fatal crash, a driving-related penal law conviction, an accumulation of 20 or more points assessed for driving violations within the last 25 years, or having two or more driving convictions each worth five points or higher.
Delayed Re-Licensing, Driving Restrictions, & Interlocks for Other Drivers with Repeated Alcohol- or Drug-Related Driving Convictions
For those drivers seeking reinstatement of a license after revocation who have three or four alcohol or drug related convictions but no serious driving offense in the last 25 years, DMV will: + Deny their applications for five years beyond their statutory revocation period if the applicant's license was revoked for an alcohol or drug related offense; or two additional years if the applicant's license was revoked for a reason other than an alcohol or drug related offense;
+ Restore the applicant's license after that additional period as a "restricted" license limiting the applicant's driving to, for example, travel to and from work or medical visits; and
+ For those drivers whose revocations stem from an alcohol-related offense, require an interlock on the vehicle driven by the applicant for five years.
End the Reduction of Mandatory Suspension or Revocation Periods
Currently, repeat drunk drivers whose licenses have been revoked or suspended for six months or a year can nevertheless get their full driving privileges back in as little as seven weeks by completing DMV's Drinking Driver Program. DMV's new regulations will ensure that those drivers cannot obtain their driving privileges until their full term of suspension or revocation has ended.
____
Jim Tedisco has been pushing this issue, too. And this past spring, he and Hugh Farley proposed legislation that would permanently revoke the driving privileges not just of people convicted of multiple drunk or drugged driving offenses, but also people convicted in multiple incidents where there was serious personal injury (regardless of whether the person was under the influence):
Our measure, (A.8934A/S.6496), would permanently terminate all driving privileges of an individual convicted of a combination of three or more of the following: a conviction for DWI/DUI; actions causing an accident where there is serious personal injury to another and the person is at fault; or vehicular manslaughter.
In a press release today, Tedisco called the Cuomo admin's announcement "a good first step."
Say Something!
We'd really like you to take part in the conversation here at All Over Albany. But we do have a few rules here. Don't worry, they're easy. The first: be kind. The second: treat everyone else with the same respect you'd like to see in return. Cool? Great, post away. Comments are moderated so it might take a little while for your comment to show up. Thanks for being patient.