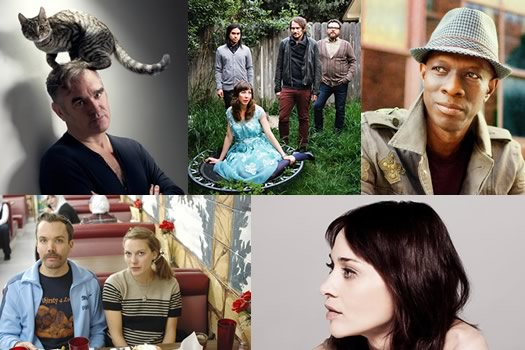 There are people who like to go to concerts. You may be one of these people.
There are also people who just like to know that there are concerts. You might be one of those people if you're not the other kind of person.
Either way, you will be interested to know that these concerts will be happening in the Capital Region. And during the next few months.
Runs through December. This isn't a comprehensive list. If there's something not on here that you think should be mentioned -- please mention away. Some of these shows have already been mentioned. We didn't think you'd mind.
October 3: Hamell on Trial at Valentine's
One man storytelling, comedy, music show. The start of an October residency -- every Wednesday through October 24. 7 pm
October 3: Frankie Rose at Valentine's
A 'fork fave. Out of Brooklyn. With: Better Pills 8 pm
October 5: From the Top at Troy Music Hall
NPR classical music show broadcasting from the hall. 7:30 pm - $25 and up
October 5: The Growlers at Valentine's
California psych rock. With: Denney and the Jets, Sean Bones. 8 pm
October 6: Medeski, Martin & Wood at The Massry Center
Jazz fusion, acoustic this time. 7:30 pm - $30
October 6: Wild Belle at Valentine's
Brother and sister act, with sort of a 70s thing going on. With: Emily Sprague. 8 pm - $9
October 7: Robert Glasper Experiment at The Egg
Hip-hop jazz. 7:30 pm - $24
October 8: Dark Dark Dark at Helsinki Hudson
Folk pop. With: Emily Wells. 8 pm - $10
October 11: Charlie Hunter at Red Square
Jazz guitarist. 8 pm - $12 ahead / $17 at door
October 11: Plants and Animals at Helsinki Hudson
Indie rock from Montreal. It'd be ironic if they were vegan. 8 pm - $12
October 13: Deer Tick at Putnam Den
John McCauley and crew, back again. 9 pm - $20
October 13: Zoë Keating at The Egg
Avant cello. "A one-woman orchestra, using a foot-controlled laptop to record layer upon layer of her exquisite artistry on the cello to create lush, compelling and otherworldly music." 8 pm - $24
October 13: Waka Flocka Flame at Upstate Concert Hall
"Unrepentant street-rap hardhead." 8 pm - $22.50 ahead / $25 day of
October 13: Warren Haynes Band at The Egg
Guitarist for the All Brothers Band, Gov't Mule. 8 pm - $30 and up
October 14: Gwar at Upstate Concert Hall
Because other bands obviously don't wear enough foam latex. 7:30 pm - $18 ahead / $20 day of
October 15: Blues Traveler at Putnam Den
Is John Popper still kinda skinny?. (Not a question that would have been asked 15 years ago.) 9 pm - $28
October 17: Chick Corea and Gary Burton at Troy Music Hall
Jazzy greats. 7:30 pm - $25 and up
October 18: Morrissey at The Palace
Human and he wants to be loved. Not by you. Probably by his cat. 8 pm - $29.50
October 18: Mike Watt + The Missingmen at Valentine's
Old-school punk bass titan. With: The Last Conspirators. 8 pm - $12
October 19: Fiona Apple at The Palace
Let's hope she can stay out of the slammer. 8 pm - $34.50 and up
October 20: Silversun Pickups at Upstate Concert Hall
Loud quiet loud, like the 90s. With: Cloud Nothings, Atlas Genius. 8 pm - $25 ahead / $27 day of
October 20: Keb' Mo' at The Egg
Blues man. 8 pm - $34.50 and up
October 20: The Loser's Lounge: Muppet Music Extravaganza at MASS MoCA
"A salute to the Muppet musical oeuvre." 3 pm - $12 adults / $8 children
October 23: Electric Guest at Upstate Concert Hall
Back again, but not free this time. 8 pm - $10 ahead / $12 day of
October 25: The Magnetic Fields at Helsinki Hudson
Stephin Merritt, et al. 8 pm - $30
October 25: Henry Rollins at The Egg
Punk rocker/host/actor/activist/something. 8 pm - $23
October 25: Straight No Chaser at The Palace
A cappella group. Indiana University > YouTube > fame. 7:30 pm - $28.50
October 25: Heartless Bastards at Upstate Concert Hall
Garage rock from the 'Nati. (RIP, WOXY.) With: Future Brides 8 pm - $15 ahead / $17 day of
October 26: Melissa Etheridge at The Palace
Come to her window. 8 pm - $38 and up
October 26: Ricky Nelson Remembered at Troy Music Hall
By his sons, Matthew and Gunnar. Remember Nelson. 8 pm - $20 and up
October 26: National Symphony Orchestra of Cuba at Proctors
First tour since Castro revolution. 8 pm - $20 and up
October 26: Laura Marling at MASS MoCA
British folk rock. 8 pm - $16 ahead / $19 day of
October 27: A Hawk and a Hacksaw at Valentine's
Violin and accordion. Includes Jeremy Barnes, formerly of Neutral Milk Hotel. With: Brian Dewan, Sgt Dunbar. 8 pm - $11
October 27: Annual Swordpaw Halloween Freakout at Valentine's
With: Disposable Rocket Band, Lucky Jukebox Brigade, Slaughterhouse Chorus, S.C.O.R.E., Secondhand Roses. 7 pm - $5
October 27: Classical Mystery Tour at The Palace
A Beatles tribute group + the Albany Symphony Orchestra. 7:30 pm - $20 and up
October 28: Metropolitan Opera Brass at Troy Music Hall
A good place to hear horns. 3 pm - $25 and up
October 29: Warsaw Philharmonic Orchestra at Troy Music Hall
More than a century old. (The orchestra, not necessarily the people in it.) 7:30 pm - $40 and up
November 1: Dr. John and the Blind Boys of Alabama at The Palace
"Spirituals to Funk." 8 pm - $37.50
November 2: Jon Spencer Blues Explosion at Helsinki Hudson
Try not to let too much of the blues spatter on you. With: Daddy Long Legs. 9 pm - $18 ahead / $22 day of
November 2: Melissa Ferrick at The Linda
Folk rock singer/songwriter. 8 pm - $20
November 3: Pretty Lights at the TU Center
Huge electronic music act. 8 pm - $24.50 and up
November 3: Meat Loaf at The Palace
Mr. Loaf's real name: Marvin Lee Aday. 8 pm - $38 and up
November 3: New York Banjo 5-String Summit at The Egg
Featuring: Bela Fleck. 7:30 pm - $34.50 and up
November 3: Chandler Travis Philharmonic at Valentine's
A 9-piece. 8 pm - $12
November 3: Bruce Hornsby at Troy Music Hall
Solo, no Range. That's just the way it is. 8 pm - $30 and up
November 6: Young Prisms at Valentine's
"Hazy, shoegaze." 8 pm
November 8: Dillon Francis at Washington Ave Armory
DJ, practitioner of moombahton. 7 pm - $20
November 10: Yeasayer at Upstate Concert Hall
Hard to describe. (Rescheduled from August.) 8 pm - $18 ahead / $20 day of
November 13: Lonestar at Upstate Concert Hall
Country veterans. 7:30 pm - $15 ahead / $17 day of
November 15: The Tragically Hip at Upstate Concert Hall
Aren't all people from Canada? 9 pm - $35
November 16: Big Bad Voodie Daddy at Troy Music Hall
Swing, daddy-o. 8 pm - $29 and up
November 17: Joe Krown Trio at Red Square
New Orleans organ jazz. 8 pm - $12 ahead / $15 at door
November 18: Victor Wooten Band and Jimmy Herring Band at The Egg
Ace bass player with guitarist from Widespread Panic. 7 pm - $34.50
November 28: Supersuckers at Valentine's
Punk/southern rock. You know, typical. With: The Pistolwhips, Mordwolf. 8 pm
November 30: Jennifer Koh at EMPAC
Violin star. Plays a Stradivarius. 8 pm - $18 / $13 students
December 2: It's a Jazzy Christmas! at The Massry Center
Popular show featuring Christmas music by Vince Guaraldi (you know, from the Peanuts specials). 3 pm and 5 pm - $20 / $10 students / kids 5 and under free
December 2: Helsinki on Broadway at Helsinki Hudson
Cabaret with Alan Cumming. 7 pm
December 4: Carrie Underwood at the TU Center
Two-time World's Sexiest Vegetarian. 7:30 pm - $42.50 and up
December 5: Dark Star Orchestra at The Egg
Grateful Dead tribute. 7:30 pm - $29.25
December 7: Joy Kills Sorrow at Caffe Lena
Bluegrass from a "bold young Boston-based string band."
December 7: Ruthie Foster at The Egg
Blues woman. 8 pm - $24
December 8: Natalie MacMaster at The Egg
"Widely considered one of the finest fiddlers in the world..." 7:30 pm - $29.50
December 8, 9: Albany Symphony Orchestra: Magic of Christmas at The Palace
Holiday tradition. 7:30 pm - $12.50 and up
December 14: Martina McBride at The Palace
Singing Christmas tunes. 7:30 pm - $50.50 and up
December 21: The Figgs Annual Holiday Show at Valentine's
And there it is. 9 pm - $10
____
Rescheduled:
October 4: Tiësto at the Washington Ave Armory has been moved to February 20, 2013.

The Palace and the Troy Music Hall advertise on AOA.
Morrissey publicity photo via the Palace Theatre | Fiona Apple via Fiona Apple Facebook| A Hawk and a Hacksaw via their website | Silversun Pickups: Autumn Wilde | Keb' Mo' via his website
Say Something!
We'd really like you to take part in the conversation here at All Over Albany. But we do have a few rules here. Don't worry, they're easy. The first: be kind. The second: treat everyone else with the same respect you'd like to see in return. Cool? Great, post away. Comments are moderated so it might take a little while for your comment to show up. Thanks for being patient.