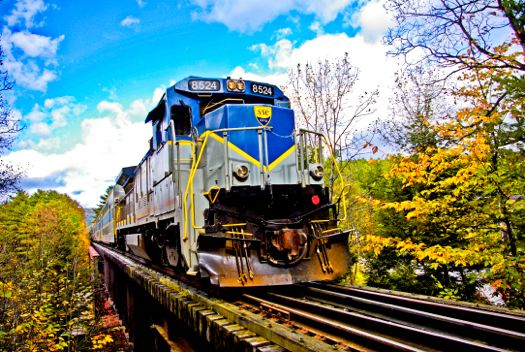 Autumn road trips are good. Autumn train trips are better -- especially when you pair them with wine and cheese.
AOA is planning a Saturday excursion into the Adirondacks October 20 on the Saratoga & North Creek Railway, with a wine and cheese tasting at barVino in North Creek, and we'd love for you to come along.
The plan
The train leaves the Saratoga Springs train station at 10 am for the scenic ride to North Creek. Once there you can wander through some of the antique shops, check out the art at The Exchange, grab lunch, or take an autumn walk and snap some foliage pictures.
Then we'll all meet up at barVino to taste wines and cheeses selected by Whisk n' Wine's Anna Bowers and Megan Diehl. (Here's a review of Bar Vino from earlier this year.) One of the dairy farmers from Nettle Meadow Farm will be onhand to share information and answer questions about the artisan cheeses we'll taste. (More details about the wine and cheese tasting are after the jump.)
The train leaves North Creek for the return trip at 3:45 pm. We'll be back in Saratoga by 6 pm.
The tickets
Space is limited, so check your calendar, and sign up now. Tickets for the day are $35, which is a pretty good deal considering that the train trip alone is normally $27. There are 24 seats available, so don't wait.
The wine and cheese tasting includes...
Five samples of cheese from Nettle Meadow Farm:
+ Fromage Blanc: 100% goat milk, soft
+ Kunik: a triple creme made from goat's milk and Jersey cow cream
+ Crane Mountain: semi-aged chevre from 100% goat milk
+ 3 Sisters: sheep, goat and cow's milk
+ Simply Sheep: semi-aged 100% sheep's milk
Three 3-oz samples of wine.
Accompaniments for the cheese (i.e., jam, crackers, bread, etc.)
Tasting notes on cheeses and wines
Additional glasses of wine would be available for purchase.
Yep, the Saratoga & North Creek Railway advertises on AOA.
Hi there. Comments have been closed for this item. Still have something to say? Contact us.