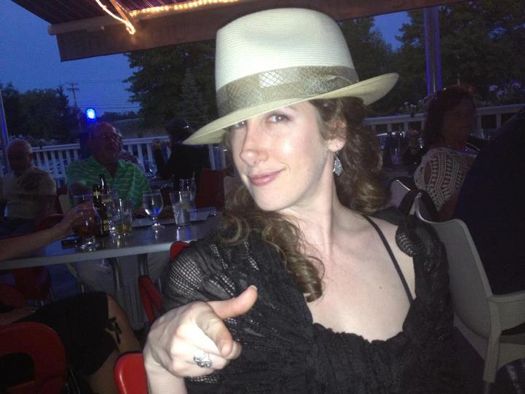 Happy Monday.
While you're easing back into the work week, here's a preview of tonight's WEXT My Exit show -- where the listeners get to pick their own playlists.
Here's this week's person...
Who?
Hi, I'm Gina Marie and I'm back for another My Exit. I write a self development blog at FeelAndHeal.com. I'm also an art model, a swing dancer, and a few other things as well. But when all of my hats are hung up and my hair comes down, I crank up the volume! Music is my home.
Describe your taste in music
My tastes are eclectic and tend toward the obscure -- from jazz and blues to avant-garde, with dream pop and new wave and lo-fi in the middle. You can read more about it here: One More Beat. This particular playlist is a selection current favorites from a variety of genres.
A few songs from Gina Marie's My Exit show:
"Gimme Danger" by Iggy And the Stooges
Stirring, raw, and emotive, "Gimme Danger" represents some of the best from this influential band. It's quintessential Stooges with passionate guitar sounds mingling with Iggy's soulful voice, especially in the second half of the track. If it were possible to eat music, I would gorge myself into delirium with this song.
"Divorce Song" by Liz Phair
Liz Phair is a very clever songwriter. Her lyrics are boldly honest and she's not afraid to break the mold with atypical composition. She's different and real, and fantastic! This song is from her critically acclaimed debut album Exile in Guyville.

"Bad Girls" by M.I.A.
Once I stumbled upon the music video for this insanely catchy song, it was stuck with me forever. I've watched the video on YouTube and listened to the song on my iPod over and over and over again. If you like stunt driving, Middle Eastern stylings, and sexual innuendo, this one might be for you.
"Little Stars" by She Wants Revenge
This is a band I featured on my last My Exit playlist, too. Their music is deliciously dark and romantic. From their latest studio album, Valleyheart. "Little Stars" has an intensity that I love from this darkwave duo.
You can hear Gina Marie's My Exit show Monday night at 8 pm on 97.7 or at exit977.org.
Hi there. Comments have been closed for this item. Still have something to say? Contact us.