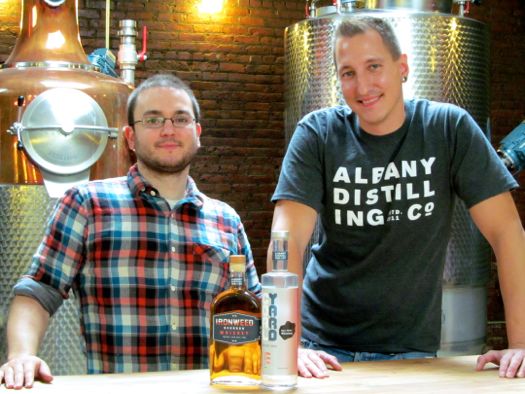 In the last nine months John Curtin and Matthew Jager have done a lot of drinking.
They've also done a lot of traveling, marketing, researching, tweaking, and distilling -- all in the service of creating a new product. And now, the founders of the Albany Distilling Company are ready to share that product -- a "new make" whiskey -- with the Capital Region.
You might remember Matthew and John from earlier this year -- and how their "manly dream of owning a bar" morphed into creating a distillery adjacent to The Albany Pump Station.
Now they've got 800 bottles of their Coal Yard "white whiskey" ready to go, a grand opening scheduled for Friday, and plans to put their products on the shelves of bars and liquor stores throughout the Capital Region.
We stopped by for a taste and a look at how things are shaping up.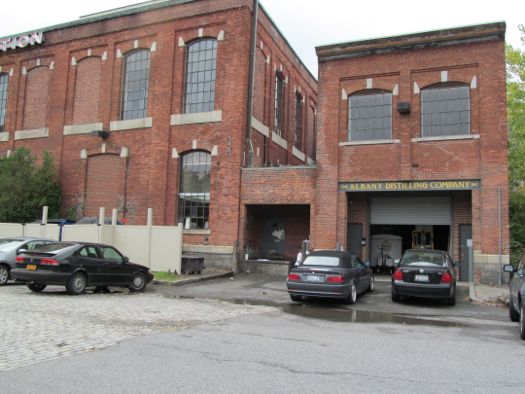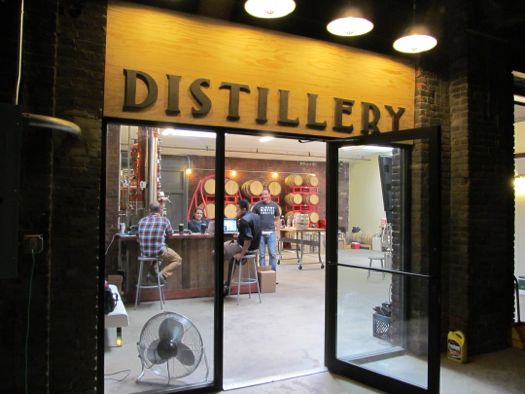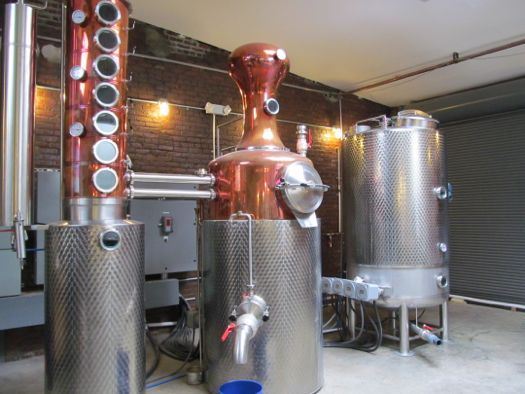 New make whiskey is not moonshine
This is one of the first things John and Matt want people to know. "Moonshine is any illegally-made spirit," says John Curtin. So why the confusion? John says it's because of the color. "White whiskey isn't aged in barrels for very long -- so it's clear." So the legal white whisky is clear, and the illegal moonshine is also clear, hence the confusion.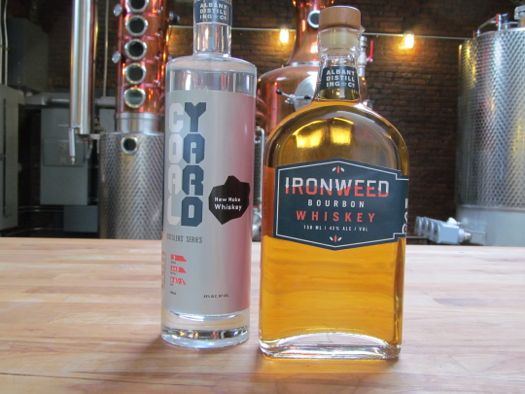 The Coal Yard new make whiskey barely spends any time in a barrel. "In order for us to legally call it whiskey, it has to go in a barrel for some period of time," says Matthew Jager, "but they don't specify how long. So we put this in the barrel for 20 minutes. And before we do that, we strip the barrel. We actually don't want the barrel to give this new make any properties of taste or color."
Matthew and John say they really want people to be able to taste the pure product now, and compare it with the aged whiskey they're expecting to release starting in December.
Taste
So, what does Coal Yard "new make" taste like?
"It's really remenicent of the Willy Wonka gum that takes you through a whole meal," says John Curtin. "The first thing you get is a pretty strong corn, so it's sweet and sort of earthy like you expect corn to be. Then you get the pepper flavor of the rye. And there's kind of a hay or grassy finish from the husks and the barley and stuff."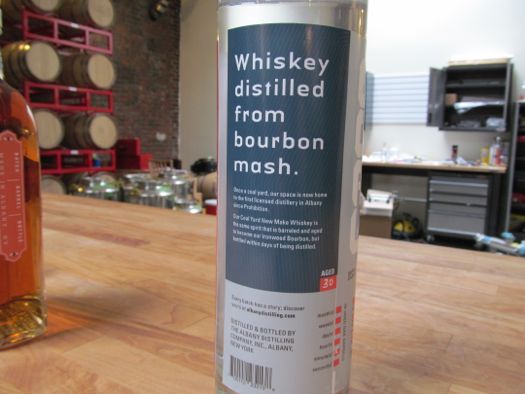 He's right. The notes of pepper are really strong -- it's the first thing you smell. What surprised us about this stuff is that it's a lot smoother than we had braced ourselves for anticipated. The flavor was interesting and something we'd try again.
What surprised them, says Curtin, is how quickly they found the right recipe. "We expected to experiment with ten or fifteen batches before we found the right recipe but we found something we really liked on the third try."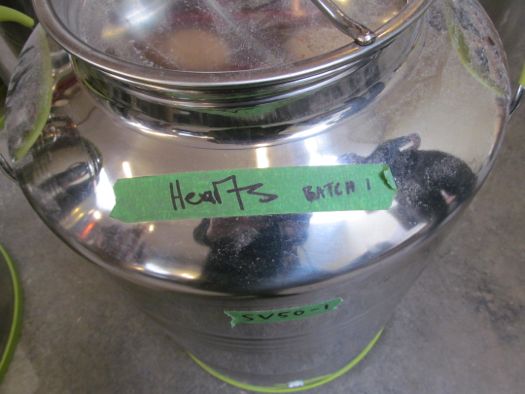 Experimenting with flavors and recipes will be part of the process, says Matthew Jager, who also teaches business at the College of St. Rose. "We take pretty meticulous notes when we make this stuff. We'll have a batch finder on our website where you can look up the batches and learn everything that we did when we made batch #3, for example, so you can learn what it is that makes batch #3 -- or the particular recipe that you like, different from the other ones. And batch #3 was really good," he laughs, "so when we don't feel like experimenting, we can aways make more of batch #3."
All the bottles will be labeled with batch numbers, so you can easily compare or shop for a batch you like.
Moving toward local ingredients
Albany Distilling Company's farm distillery license requires that at least 75 percent of its ingredients come from New York State. Right now a lot of the raw materials come from the Finger Lakes region, but they're working toward sourcing as much as they can right here in the Capital Region.
"Our goal is to get as close to 100 percent local as we can," says Jager. "We'd like to be able to walk outside, point at the Helderbergs and say 'that's where the grain comes from.'"
They were working with some farmers in Schoharie, but Irene put that plan on hold. "Once the farmers start to hear more about us, we're hoping to get a farm interested in doing a planting for us," says Jager.
What's next
Matthew and John say their next products will be an aged whiskey, then a rye whiskey, an aged-rye whiskey, a vodka, and eventually a rum.
"The rum is an homage to Albany's first distillery, which was right next door to where we are now, underneath what is now the parking garage," says Jager. Before they can make a rum, they need a new distillers license, since they can't source sugar cane in New York.
Another homage is the name of their first product: Coal Yard. The space occupied by the distillery was once the coal yard that powered the pump station. Their aged whiskey, which they'll offer in December (provided it's ready then) will be called Ironweed, in honor of William Kennedy's novel.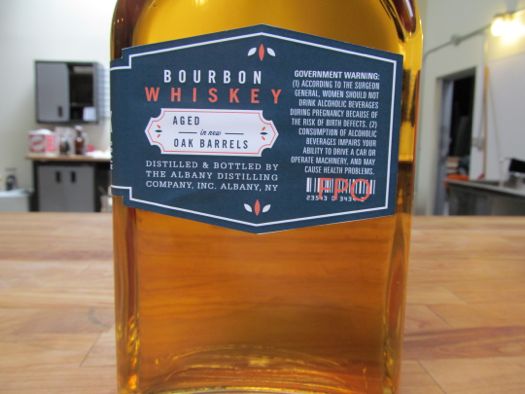 A number of Albany bars have already made a commitment to cary the product, including The Albany Pump Station and The Olde English Pub, and area bartenders are already working to create cocktails for the new product.
"We don't have a really strong cocktail culture in this town right now, but we're hoping to be a big part of changing that," Jager says. "Bartenders seem to be getting excited about it. It sounds kind of hokey to say, maybe, but it's kind of a feeling -- people seem so excited, kind of like proud of us for be doing what we're doing."
You can taste the Coal Yard new make on Friday (October 5), starting at noon, at the Albany Distilling Company, right next to The Albany Pump Station.
Hi there. Comments have been closed for this item. Still have something to say? Contact us.