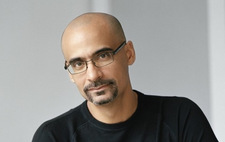 The MacArthur Foundation has announced its 2012 group of MacArthur Fellows, who get $500,000 grants with no strings attached (AKA, the "genius grants"). And as it happens, one of the winners will be here this week -- and another was just here.
Junot Diaz
Junot Diaz is, of course, a Pulitzer Prize winning novelist. And now he's a MacArthur Fellow. (That's him on the right.) He'll be at UAlbany Thursday night as part of the NYS Writers Institute visiting writers series. From the MacArthur profile of him:
Junot Díaz is a writer whose finely crafted works of fiction offer powerful insight into the realities of the Caribbean diaspora, American assimilation, and lives lived between cultures. Born in the Dominican Republic and living in the United States since adolescence, Díaz writes from the vantage point of his own experience, eloquently unmasking the many challenges of the immigrant's life. With skillful use of raw, vernacular dialogue and spare, unsentimental prose, he creates nuanced and engaging characters struggling to succeed and often invisible in plain sight to the American mainstream.
The Diaz reading at UAlbany starts at 8 pm Thursday in the Assembly Hall on the uptown campus. It's free.
Chris Thile
A member of the Punch Brothers, Thile played The Egg this past Sunday. And it was apparently a great show. From the McArthur profile of Thile: "Chris Thile is a young mandolin virtuoso and composer whose lyrical fusion of traditional bluegrass with elements from a range of other musical traditions is giving rise to a new genre of contemporary music. With a broad outlook that encompasses progressive bluegrass, classical, rock, and jazz, Thile is transcending the borders of conventionally circumscribed genres in compositions for his own ensembles and frequent cross-genre collaborations."
By the way: William Kennedy was a MacArthur Fellow in 1983 -- and used part of the money to help found the NYS Writers Institute.
(Thanks, Tom!)
photo: Nina Subin / Penguin
Hi there. Comments have been closed for this item. Still have something to say? Contact us.