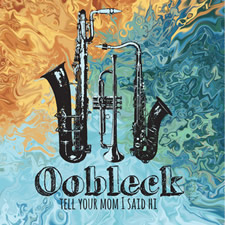 Something funky for this gray weather day: Tell Your Mom I Said Hi, the new album from local five-piece funk band Oobleck -- or, as they describe themselves, "funked-out-afro-grunge-rock-alt-dub-whatever."
The band released the album this week, and we've enjoyed spinning through it. We must warn you, though: there's some possibility it might induce chair dancing.
Oobleck has an album release party October 13 at Valentine's. Also on the bill: The Ameros. Show's at 9 pm. Tickets are $5.
Oobleck? You know, from Dr. Seuss. Also: a non-Newtonian fluid.
Hi there. Comments have been closed for this item. Still have something to say? Contact us.