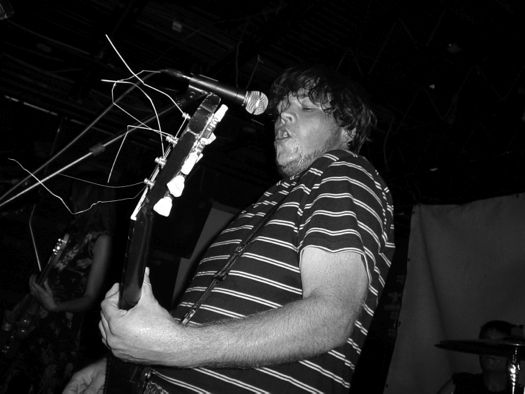 Today is kind of a holiday -- but not. Some people are working, others aren't, traffic patterns are weird. Things just generally seem a little out of order -- including My Exit. So here it is -- a little later in the day then usual -- a preview of tonight's WEXT My Exit show -- where the listeners get to pick their own playlists.
Tonight, a little punk, a little local and a little Halloween.
Who:
Matto LaQue. A longtime resident and supporter of the local 518 music scene, I have actively been performing in bands since high school when I played my first "real" gig in 1991 at Saratoga Winners (which has now been reduced to pile of ashes sitting in a dump somewhere in Halfmoon -- an encouraging mile marker in one's musical path towards glory and fame). Basically when I had the time I booked a lot of fun shows and I was once on the cover of the Metroland looking like a real dork.
I now put a lot of miles on my car commuting between Albany and Buffalo as I pursue my BA in childhood education. I spend the rest of my time and the money I don't have making music and putting out records for my bands and others artists with my record label, Peterwalkee Records. The label has seen the release of over 30 records, including locally-connected artist like The Figgs, The Kamikaze Hearts, and Kitty Little.
How would you describe your taste in music?
The music I played on My Exit show is just a little cross section of the kinds of stuff I enjoy listening to. I left off some of the more brutal hardcore and punk stuff I enjoy because I thought that it might go over like a lead balloon with the Sunday afternoon My Exit replay crowd -- but hey, maybe not.
A few songs from Matto's playlist:
Melt Banana - "Lost Parts Stinging Me So Cold"
A great song from an amazing band from Japan. I have seen them perform live several times they always left me utterly confused and inspired. This should be on the radio all the time.

Anthony & The Johnsons - "Aeon"
My father was a huge inspiration for my musical interest. I grew up on Motown, Roy Orbison, Frankie Valli, Elvis, and the Brill Building pop records my father would often play and sing along to. My father passed away from cancer when I was 16. Anthony has a unique voice that I think my father would have really responded to had he lived long enough to hear it. Lyrically the song also makes me think about my father. I am not entirely sure what the song is actually about but that doesn't really matter because it moves me in my own personal way and to me that is power of music.
The Figgs - "Chased"
I have been going to see the Figgs and buying their records since I was in middle school (a long time ago) and they are an awesome pop band that is extremely underrated. I also played this song because I released the vinyl version of their new record The Day Gravity Stopped on my label, Peterwalkee Records. (Shameless plug.)
Rocket from the Crypt - "I drink Blood"
RFTC rules and so does Halloween. I celebrate both with excessive force. EAT CANDY, DRINK BLOOD.
You can hear Matto's My Exit show Monday night at 8 pm on 97.7 or at exit977.org. It also repeats at 10 am Sunday morning.
Here's how to schedule your own My Exit show on WEXT.
Hi there. Comments have been closed for this item. Still have something to say? Contact us.