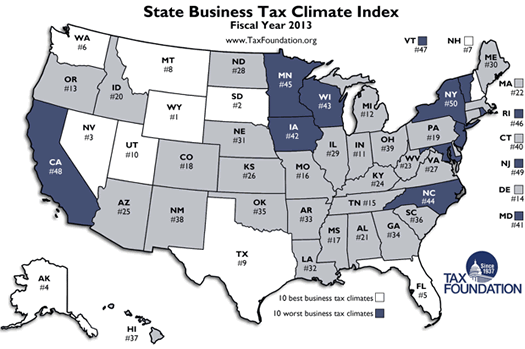 The Tax Foundation, a "non-partisan tax research group", has released its annual "business climate" index -- and New York State is at the bottom.
How the index is compiled:
The State Business Tax Climate Index, now in its 9th edition, collects data on over a hundred tax provisions for each state and synthesizes them into a single easy-to-use score. The states are then compared against each other, so that each state's ranking is relative to actual policies in place in other states around the country. A state's ranking can rise or fall significantly based not just on its own actions, but on the changes or reforms made by other states.
Why New York is at the bottom:
Despite moderate corporate taxes, New York scores at the bottom this year by having the worst individual income tax, the sixth-worst unemployment insurance taxes, and the sixth-worst property taxes.
Here's the index profile for New York.
The other members of the bottom five, in ascending order: New Jersey, California, Vermont, Rhode Island. The top five, in descending order: Wyoming, South Dakota, Nevada, Alaska, Florida.
The full report is embedded after the jump.
It's no secret that New York could have lower taxes -- the property taxes alone in some municipalities are crushing. But just out of curiosity, we thought it might be interesting to compare the Tax Foundation's list against a list GDP per state...
State GDP vs. tax index rank
GDP figures (actually, Gross State Product) are for 2010 and from the federal Bureau of Economic Analysis and were pulled from the listing in Wikipedia. The Tax Foundation ranks are for fiscal year 2013. Your mileage may vary.
Tax Foundation report
Tax Foundation State Business Climate Index 2013
map: Tax Foundation
Hi there. Comments have been closed for this item. Still have something to say? Contact us.