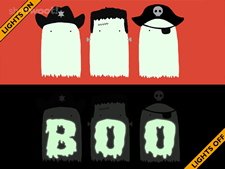 The kids version of Woot! -- appropriately called Kids Woot! -- is currently selling a cute Halloween t-shirt called Ghosties by local desinger Andrew Gregory.
It features three ghosts dressed up in costumes -- with a glow-in-the-dark message.
The shirt is $15. It's on sale for two more days.
Andrew lives in Rensselaer and designs under the name lunchboxbrain. One of his designs was sold by Gap earlier this year.