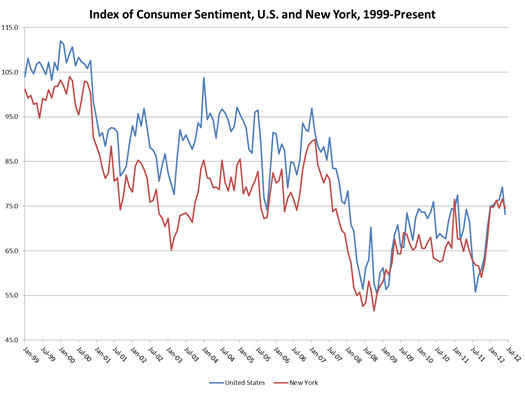 The Siena Research Institute released consumer confidence figures today for metropolitan areas around the state. SRI reports that consumer confidence was up in every metro during the 3rd quarter of this year compared to the same period last year -- though it's down a bit in many metros compared to the last quarter. The Capital Region's Q3 figure was up 13 percent compared to the same period last year -- and down about 6 percent compared to the previous quarter).
Last week, SRI released numbers for the state as whole -- and September's figure was the highest in five years. Interesting bit: there was a huge gap between Democrats (95) and Republicans (58) -- 37 points -- the largest ever measured by SRI.
In general, rising consumer confidence is a sign that people think things are getting better and are more willing to spend money. That's usually a good thing for the economy.
The decade: The thing that really caught our eye today while browsing the SRI site: the chart above, which tracks consumer sentiment for both the nation (blue) and state (red) since 1999 until the present. It's not surprising -- and things appear to be getting better -- but, oof, the chart's another illustration it's been a rough decade or so.
chart: Siena Research Institute
Hi there. Comments have been closed for this item. Still have something to say? Contact us.