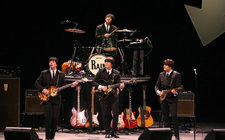 The Beatles tribute show RAIN will be back at the Palace March 18. Tickets are $30 and up. They go on sale this Friday (October 12).
The last time the show was in town, it sold out. So if you'd like to go, getting tickets sooner rather than later is probably a good idea.
From the blurbage for RAIN:
RAIN performs the full range of The Beatles' discography live onstage, including the most complex and challenging songs that The Beatles themselves recorded in the studio but never performed for an audience. Together longer than The Beatles, RAIN has mastered every song, gesture and nuance of the legendary foursome, delivering a totally live, note-for-note performance that's as infectious as it is transporting.
photo via RAIN website