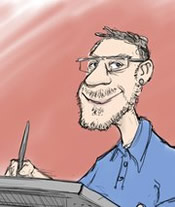 Times Union editorial cartoonist John de Rosier was laid off this week. De Rosier had been at the paper for 13 years. His panel today included a goodbye to readers:
For nearly thirteen years, it has been my privilege to comment on the news as the editorial cartoonist for the Times Union. Due to layoff, my tenure here has come to an end. Thank you all for reading, for your comments pro and con, for keeping me on my toes, and for reminding me daily that my opinion is not the only one worth hearing.
As newspapers around the country have made significant cuts in an attempt to maintain (or return to) profitability, many editorial cartoonists have been among the ranks laid off. Just recently, editorial cartoonists at papers in New Orleans, St. Louis, and Syracuse -- and now Albany -- have lost their jobs. [Washington Post] [Cagle] [Daily Cartoonist]
Posted Albany Newspaper Guild president Tim O'Brien at the union's website:
Last week, employees at the Times Union were very proud to earn the Newspaper of Distinction Award from the Associated Press. A week later, we are eliminating one of the most distinctive elements of our newspaper. Sure, the space can be filled with syndicated cartoons from one of the few newspapers that still employ a cartoonist, but that means fewer and fewer voices skewering our nation's politicians -- and no one doing so on a local level.
The guild, which represents many of the paper's employees, reports that de Rosier was one of two employees to get a layoff notice this week. Veteran photographer Phil Kamrass was the other. The union says it's negotiated a buyout offer from the company for members of the newsroom, and Kamrass is waiting on the outcome of that process.
Wrote TU editor Rex Smith in an email to employees this week:
Phil Kamrass and John De Rosier are valued colleagues - smart journalists and real professionals. I thank them for all of their contributions to the Times Union over the years. This action in no way reflects on the skills of these good people.
For the rest of us, the challenge remains to give our readers as good a journalistic package as we can. We know staff cuts can hurt our product, but we also know that we're working smarter and more efficiently than we ever have before, and we recognize the promise of journalism in the digital age. Every person in this room now becomes even more essential to the important job of the Times Union in this community. We can take great pride in our record of service to the Capital Region, most recently recognized by the Newspaper of Distinction award that we received from the state Associated Press Association. We all share an obligation to our community to carry that tradition of excellence forward as aggressively and intelligently as we can.
The TU has now been through multiple rounds of layoffs, stretching back three years. Earlier this year it settled a suit filed by the guild over layoffs initiated in 2009. And the guild recently posted a video with employees protesting a five year stretch without raises. [Daily Gazette]
The last few years have been a grim time for a lot media outlets. Many have faced steep declines in traditional sources of revenue, and the attempt to stay afloat has involved a combination of deep cuts to staff, literally shrinking the size of the product, paywalls, an increased emphasis on digital, and... more layoffs. Some large newspapers have been shut down. Companies have gone bankrupt (some multiple times).
There will probably always been some sort of news media. But the business prospects of such an enterprise are prompting serious questions about what it will look like going forward. It might not necessarily be worse in the long run -- but it will almost certainly be a lot of different. And in the short term... it's messy.
A little more about John de Rosier
He's also a talented metalsmith. Last year Akum talked with him about the beautiful jewelry he makes. He posts about some of his metal work on a blog, The Jeweler's Files.

Earlier:
+ Parent company of Saratogian, Record files for bankruptcy. Again.
+ Three days a week in Syracuse
+ Post-Star is starting a pay wall
image via John de Rosier Facebook
Say Something!
We'd really like you to take part in the conversation here at All Over Albany. But we do have a few rules here. Don't worry, they're easy. The first: be kind. The second: treat everyone else with the same respect you'd like to see in return. Cool? Great, post away. Comments are moderated so it might take a little while for your comment to show up. Thanks for being patient.