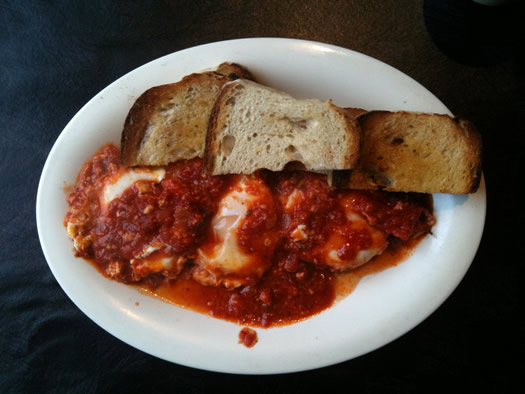 By Daniel B.
Sometimes great dishes can be hiding in plain sight. It's just a matter of knowing what to order, and letting a trusted advisor be your guide.
More Perreca's had consistently disappointed me for breakfasts. The ultimate insult was toast made from the bakery's famous bread that was served cold. But that was just the tip of the iceberg. From a questionable frittata, to mushy potatoes, to an egg sandwich served on a quarter loaf of bread with a virtually impenetrable crust, nothing I tried over multiple visits had worked for me. The egg sandwich, when made with one of their generous sausage patties, had been the best of the bunch, just so long as it came unaccompanied by potatoes.
But Deanna from Silly Goose Farm insisted I had it wrong. She was willing to vouch for a dish on their breakfast menu and agreed to accompany me on one last journey to this offshoot of a Schenectady institution.
Not only are the Eggs in Purgatory there delicious, but I cannot imagine a more befitting breakfast for the Electric City in October.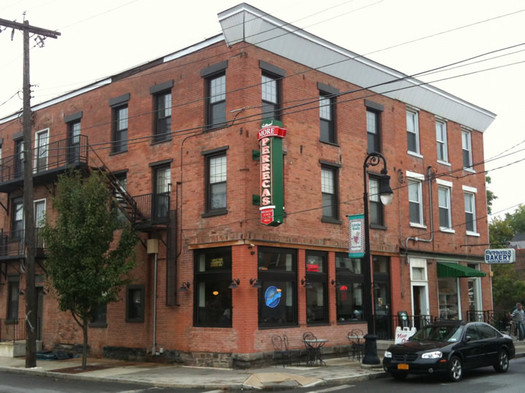 It was a typical fall morning. The air was cold. The sky was gray. It was exactly the time to have something warm and soulful that would be invigorating from the inside out.
As winter progresses my favorite deeply warming breakfast is a hot bowl of oatmeal. Ideally it's steel cut, toasted in butter, and slowly simmered in milk. Eggs don't generally have the same effect. Like toast, their heat quickly dissipates and they cool off far too fast.
More Perecca's solves that problem by topping three poached eggs with fra diavolo sauce, creating a blanket that not only keeps the delicate eggs warm, but also helps to warm you from within. Because this sauce has a spicy kick and plenty of garlic. It draws on over a century of Italian-American heritage and culture, ignites the senses, and clears out the cobwebs so you can tackle the cold dreary day outside.
The heat isn't going to send you into orbit or frantically searching for something to quench the fire. Rather, it smoulders.
While this may not be your most typical breakfast dish, eggs and tomatoes are enjoyed all over the world. In the Middle East they enjoy Shakshouka, which is a remarkably similar preparation of poached eggs with spicy tomato sauce. The salsa on huevos rancheros is another variation on the spicy theme. On the less assertive side of the flavor spectrum, English breakfasts traditionally come with a roasted tomato. At Cafe Fanny in Berkeley the amazing open faced egg salad sandwich used to come with strips of sun-dried tomatoes. And even in New Jersey eggs come slathered with saltpepperketchup.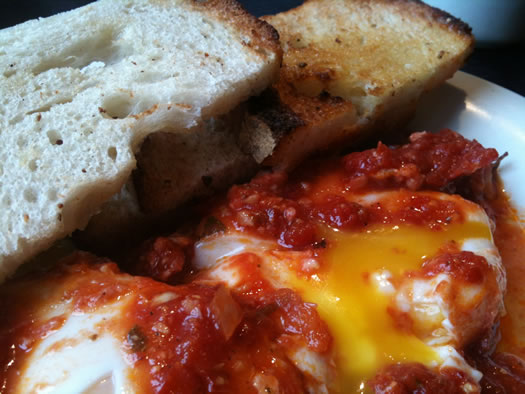 For me, poached eggs must contain a runny yolk, so I have adopted the habit of always ordering my poached eggs "soft." And when I cut into one of the deep yellow yolks at Perrecca's and it spilled over the red, piquant sauce in front of a piece of brown toast, it was like the colors of fall unfurled on the plate.
Could the toast have been a little more evenly done? Sure. And the poached eggs could have been more thoroughly drained. But I'm being picky. The big thing is that the toast came to the table warm, and everything on the plate was delicious.
The restaurant's recent shift away from counter service to table service (even at breakfast), in addition to bringing in a new chef, are also likely factors that have contributed to a better overall dining experience.
Now, if you are feeling adventurous you can even follow in Deanna's footsteps and ask that they put your Eggs in Purgatory on one of their coal fired pizzas. They are happy to oblige. But I say to stick with the toast, especially if you enjoy having something to dip in your runny yolks.
It's hard to believe, but oatmeal may have finally met its match. And you can bet I'll be back throughout the colder months for this reinvigorating repast.
Daniel B. is the proprietor of the FUSSYlittleBLOG.
Find It
More Perreca's
31 North Jay St.
Schenectady, NY 12305
Hi there. Comments have been closed for this item. Still have something to say? Contact us.