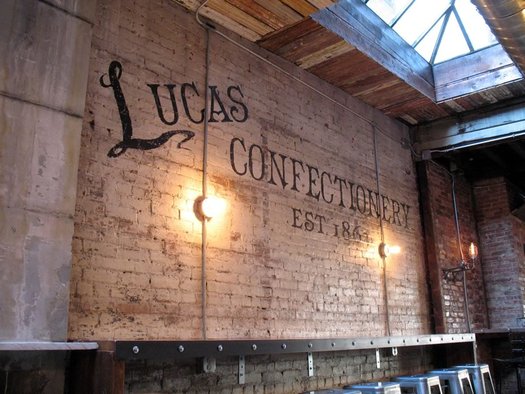 By Daniel B.
On November 3, 2011 Vic Christopher and his wife Heather LaVine bought the building at 12 Second Street in Troy and began the work of restoring it that very night. It had most recently been the Troy Insurance Agency, but stood vacant across the street from the Illium Cafe for several years.
However, from 1863-1951 this had been the site of the Charles F. Lucas Confectionery.
Mr. Lucas, an Austrian-born emigre, brought the people of Troy something special, something sweet from the place he called home. Mr. Christopher is doing the same thing, but he's drawing from his roots in Brooklyn. After almost a year of renovations, soon the Charles F. Lucas Confectionery will re-open as a wine bar.
Recently I had the opportunity to talk with one of Troy's most passionate supporters about how this project began, what baseball has in common with operating a wine bar, and why Vic and Heather are hoping this will be your home away from home.
There are large-format photos of the space above -- scroll all the way up.
This is a love story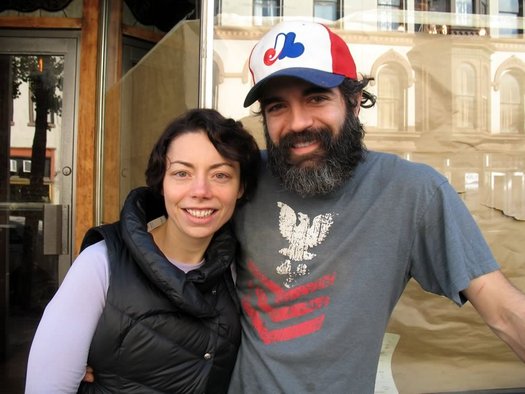 Vic explains: "Heather and I fell in love because we enjoyed working with each other." The two of them met on the job during his tenure with the Tri-City ValleyCats. He continues, "I can't work for anybody. I learned the lesson twice. I need to be an entrepreneur. I wanted to do it with my wife who is the most talented person I've ever met. And it's just time."
But there are a lot of ways to be an entrepreneur.
For a while the couple thought about leaving the area, moving to Brooklyn, and buying a piece of real estate. As they were scoping out potential properties there, they walked into a wine bar called The Castello Plan and fell in love with the environment. That's when it clicked. They wanted to do something like that.
"It didn't make sense to do it in Brooklyn. We quickly gave up on the idea of doing it anywhere else but Troy. We'd saved some money and could afford to do something really spectacular in Troy that we couldn't do anywhere else."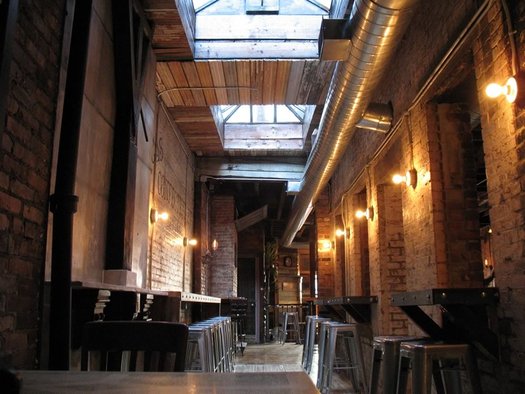 Since buying the building at 12 Second Street, the project has taken on a life of its own. In many ways it's a reclamation project using found and donated objects from throughout the city. Almost everything within the four walls of the building has a story. The marble table tops used to be the walls of the apothecary next door. There are 228 Troy bricks which Vic got from a friend at the Bruno Machinery demolition site. The railing came out of the Market Place building. A Washington Park resident donated an antique mirror.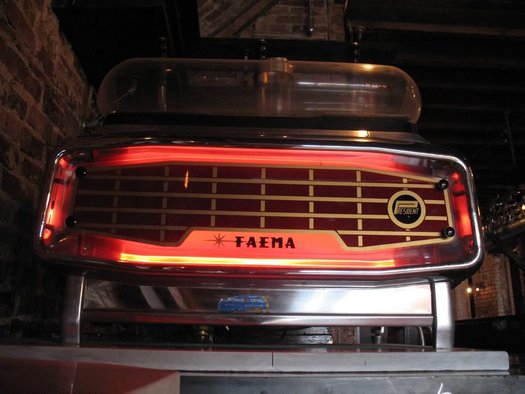 But the showstopper is the 1965 Faema President espresso machine.
Apparently it had been sitting in the basement of Minissale's since 1977. "I took one look at it, and I was just in love. That was it. I was hooked," Vic says, "And we've been working on it ever since."
The machine is now operational. How it will be used when the shop opens may depend on the choice of coffee provider. Vic and Heather are talking to Stumptown and Blue Bottle, both of which take a different stance to supporting antique machines. Regardless, there is going to be some seriously good coffee heading to Troy in the near future.
Not so far afield
"This is close to minor league baseball. It's entertainment. It's showing people a good time. You know what I mean? It's customer service," says Vic of their current project. "And that was always the thing we always appreciated about each other: making people feel special. When those gates opened up and 4,500 people came in, every one of those people is very important. And we're very good at making people feel that way. Making people feel like they got a lot of value for their money."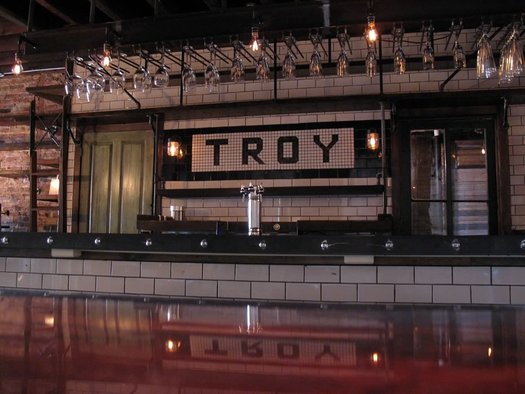 For a wine bar, part of that involves finding special wines that are a bit out of the ordinary. The plan is to open with twelve wines by the glass: five reds, five whites, and two on tap. Yes, they are bringing wine kegs up to the Capital Region. And to try to curate a selection of wines that represents grapes and regions from around the world.
The task isn't an easy one. Vic explains: "There are many different distributors. Sometimes you have to work backwards. Sometimes you have to find the wine, call up the winery and play detective to figure out who carries it locally. So we're dealing with seven different distributors, which is unheard of for something this size. It's crazy. It's nuts. But that's the job and we're ready to do it."
Vic is also adamant that flights of wine have to offer customers a good value. These will be three three-ounce pours that are designed to help people discover new wines to love. For example, Pinot Noir from around the world: one from California, one from France, and one from New Zealand. But there will be multiple flights available, and they will change over time.
As for making people feel special, the couple wants to try to recreate the experience of buying a glass of wine at The Castello Plan. Vic describes how this plays out at this influential wine bar: "When you buy a glass of wine, you get the same feeling like when you are in Peter Luger and get a bottle of Dom Perignon. They come over, you taste it. Before you pour a glass, you get the opportunity to try a few other things. It's a special moment... the manual opening of a bottle, and the pouring from a hand, from the bottle to your glass, with care and love."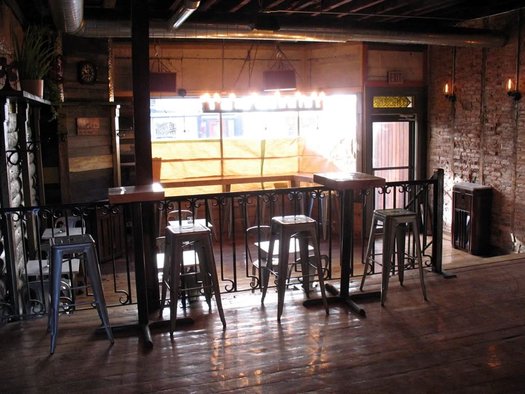 But the aim for it to not be stuffy
Vic says he and Heather used to leave Troy on the weekends, "Because there wasn't the kind of place I was looking for to hang out. And we'd go down to Brooklyn... I'm an internet addict, I want to sit down in a cafe with my computer, order a glass of wine, a little cheese, and I want to stay there for two hours. That's my idea of a night out. And there's nowhere you can do that in the Capital Region."
To that end, not only are there power outlets all over the place for people to plug in their laptops, but there are also powered USB ports to plug in your phone or tablet chargers.
"Because we've put so much time into creating this space for people, we want people to use it." Vic speaks about the theory of the third place. The first two places are work and home. "The third place is the theory in community development that there is a space where you are just as comfortable as your two primary places... In order to be third place, I think you need to be open all the time. I don't want to be open seven days a week, because I'd like to have a life. And I don't want to be open day and night. But I want to create this third space so we're going to do it."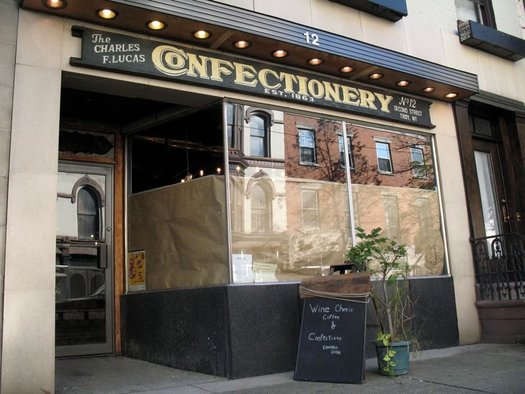 Unfortunately "all the time" does not mean from sunrise until the bars close. Vic and Heather are looking at 11 am to 11 pm hours (though they may start the first few weeks with evening-only hours) with panini, coffee and sweet treats from Sweet Sue's in the morning. In the evening there will be food. But the plan for food is simple and designed to complement the wine, with a focus on cheese and charcuterie. (It was great to hear that Eric from The Cheese Traveler has been helping with their selections.)
And the good news is that even if you don't like wine, there will be a place in Troy to enjoy a cup of coffee and hang out in the evenings. And if you do happen to enjoy wine, this confectionery is going to be even sweeter.
____
Vic says The Confectionery is waiting on the approval of its liquor license before it opens. He said this week he's hoping the SLA will approve their application by the end of October.
The Confectionery's Facebook page is now up -- and it includes a bunch of in-progress photos of the space, as well as historical details about the building and Charles F. Lucas.
Daniel B. is the proprietor of the FUSSYlittleBLOG.
Elsewhere: Over at KAB, Andrew recently posted a good photoset of the Confectionery.
Find It
The Charles F. Lucas Confectionery (opening soon)
12 2nd Street
Troy, NY 12180
Hi there. Comments have been closed for this item. Still have something to say? Contact us.