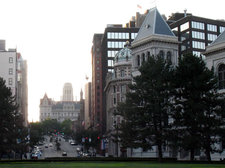 A former SUNY Research Foundation employee at Buffalo State charged almost $131,000 in person expenses a foundation credit card between 2007 and 2011, according to an audit released today by the Office of the State Comptroller. From the OSC press release:
DiNapoli's investigators and auditors found a senior SUNY Research Foundation official at Buffalo State College, Edgar H. Turkle III, used his foundation-provided credit card to personally enrich himself. A review of 424 of Turkle's credit card transactions for the 48-month period November 2007 through November 2011 found 348 purchases totaling $130,887 that were not business-related. Turkle charged the Research Foundation $22,225 for Buffalo Sabres hockey tickets and other personal expenses such as a birthday party for his wife, an Apple computer, iPad and iPhones, chocolates, and groceries. He also traveled to foreign countries, primarily in Asia, in 29 out of the 48 months reviewed, incurring $125,342 in related costs paid through travel vouchers that had no trip itineraries or agendas.
The report says Turkle told them he had been accompanying faculty on trips to Asia because, "I am the guy. No other way to put it." It also alleges that Turkle "inappropriately credited himself with leave time." Turkle was fired this past February, according to the report, and the Research Foundation and the OSC referred the matter to the Albany County DA's office.
The audit also alleges a range of other questionable financial practices at the RF -- including $665,356 spent on compensation for an employee who worked at central office in Albany for just 11 months, and was terminated because she was "not a good fit."
In its response to the audit, RF president Timothy Killeen says:
Today, the RF is a markedly different organization than it was just a year ago, and it continues to move forward. Changes already implemented or underway are in large part due to the introspection and work triggered by these reviews, and they address many of the specific issues and recommendations made in the Report.
The Research Foundation handles almost $1 billion in research funding each year for SUNY campuses around the state. As a private non-profit, it had long held it wasn't subject to FOIL -- it reversed that policy earlier this year after the Times Union filed a lawsuit. The TU's Jim Odato has been chiseling away at the org for a while now (he obtained a copy of this audit last week), notably over an alleged no-show job for Susan Bruno, one of Joe Bruno's children (the comptroller's office says it's referred that matter to the state attorney general's office). [TU] [TU]
John O'Connor -- who headed up the Research Foundation for 11 years -- left in June 2011 following questions about what was going at the foundation. This past summer, Killeen -- a former National Science Foundation official -- took over the top job. [SUNY] [NYT] [SUNY]
Hi there. Comments have been closed for this item. Still have something to say? Contact us.