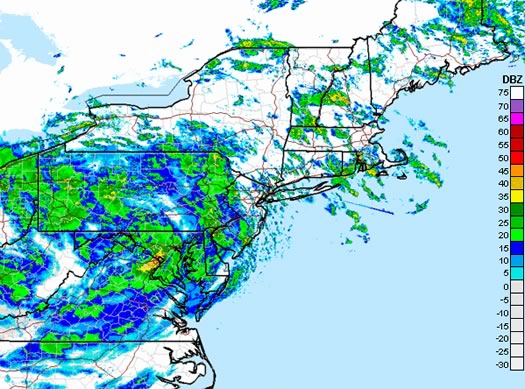 Updated 7:40 pm
+ The core Capital Region largely missed on the rain and wind for much of Monday -- the NWS reports only a little more than 1/10 of an inch of rain for the day in Albany, with just a bit more over night.
+ There is a flood warning in effect for the Hudson River at Albany, with the river projected to rise above flood stage for a few hours Tuesday morning. The flooding is predicted to be "minor." The warning is in effect until the early afternoon.
+ The forecast for Tuesday: a 50 percent chance of rain, increasing in the evening -- breezy, with gusts near 50 mph, cloudy, highs in the low 60s.
+ There are scattered power outages around the Capital Region core, mostly in Saratoga County -- where at one point Monday night National Grid was reporting 5,667 customers without power. As of Tuesday morning the utility is reporting a little more than 2100 customers without power in the four core counties, again the majority in Saratoga. (There are 1.94 million around the state without power, as of this morning, according to the Cuomo admin.)
+ Many schools and orgs are closed or delayed Tuesday. [YNN]
+ The situation in the New York City area, and other parts of New Jersey, is serious. Record-high storm surge pushed water into Manhattan and other low-lying areas of the boroughs. Tweeted NYS Director of Operations Howard Glaser at 8:45 pm: "lower manhattan is being covered by seawater. I am not exaggerating." In another tweet he said water is flooding into the WTC "at massive rate." Bridges and tunnels into Manhattan were closed. And the power was shut off in lower Manhattan, leading to some eerie pics. [NYT] [@hglaser1] [@hglaser1] [@hglaser1] [@StephLauren] [@lexinyt]
+ Sandy has been downgraded to a post-tropical cyclone, the center of which is tracking through Pennsylvania, and is forecasted to head through western New York tonight. [National Hurricane Center]
+ Amtrak has canceled service in the Northeast Corridor again Tuesday, including the Empire Service. [Amtrak]
+ ALB is open, but many flights have been canceled or delayed. [YNN]
+ CDTA said this morning it's on its regular schedule and routes. Here's the CDTA service advisories page. The customer service number -- staffed 6 am-7 pm weekdays -- is: (518) 482-8822.
Post jump, emergency info and numbers...
Info/numbers
National Grid
To report a power outage to National Grid: 1-800-867-5222.
911
When in doubt -- and it's an emergency -- call 911.
2-1-1
For disaster assistance information from the United Way, you can call 211.
City of Albany
The city of Albany storm command center is at 518-434-4522. If you have a storm-related issue that needs immediate attention -- fallen tree, flooding, prolonged power outage.
Red Cross shelters
Here's a list of Red Cross shelter locations around the greater region.
CDTA
Here's the CDTA service advisories page. The customer service number -- staffed 6 am-7 pm weekdays -- is: (518) 482-8822.
In case of a power outage
From National Grid:
+ Never touch downed power lines, and always assume that any fallen lines are live electric wires. If you see one, report it immediately to National Grid or your local emergency response organization.
+ If you use a generator to supply power during an outage, be sure to only operate it outdoors. Before operating generators, be sure to disconnect from National Grid's system by shutting off the main breaker located in the electric service panel. Failure to do this could jeopardize crew safety.
+ If you lose power, turn off any appliances that were on when the power went off, but leave one light on so you will know when power is restored
+ People who depend on electric-powered life support equipment, such as a respirator, should let National Grid know. To register as a life support customer, call the company's Customer Service Center at 1-800-322-3223.
+ Prepare an emergency supply kit, which includes items like non-perishable food, water, a battery-powered or hand-crank radio, extra flashlights and batteries, medications, and essential baby items.
+ You may want to prepare a portable kit and keep it in your car in case you are told to evacuate.
+ Turn your refrigerator thermostat to its coldest setting and keep its doors closed.
+ Turn off propane tanks. Avoid using the phone, except for serious emergencies.
Water and cash
It's not a bad thing to have extra of both on hand if things go the wrong way.
If you don't already have a stock of water, you can just fill up bottles or pots with tap water now. Another option if you're really concerned: fill the bathtub. (In many cases, water probably won't be an issue -- but it could be if there's flooding or a prolonged situation.)
Cash -- ATMs don't work if there isn't power, nor do credit card/debit readers.
And... just a bonus
Here's a mesmerizing wind current map.
Say Something!
We'd really like you to take part in the conversation here at All Over Albany. But we do have a few rules here. Don't worry, they're easy. The first: be kind. The second: treat everyone else with the same respect you'd like to see in return. Cool? Great, post away. Comments are moderated so it might take a little while for your comment to show up. Thanks for being patient.