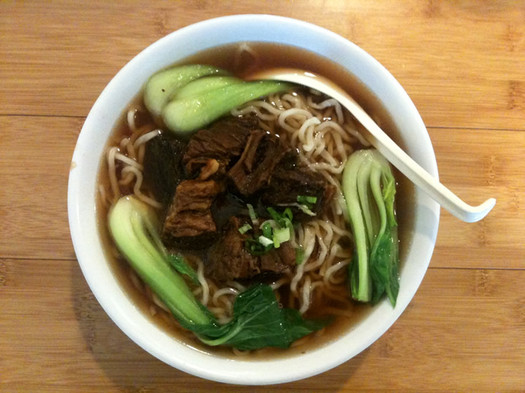 By Daniel B.
Why don't folks from the suburbs go out to eat in Albany? People are full of excuses. I hear the lack of parking a lot.
Well, Taiwan Noodle has a parking lot, and it is adjacent to the restaurant. So you can get from your car to the restaurant in seconds.
What it doesn't have is a lot of pretense, overpriced food, or people there to see and be seen.
But it does have enough varieties of soup noodles -- sixty by my count -- to keep you warm and satisfied throughout the long, cold Albany winter.
Naturally, you should start at the top of their menu with the stewed beef chuck noodle soup, and let me tell you why.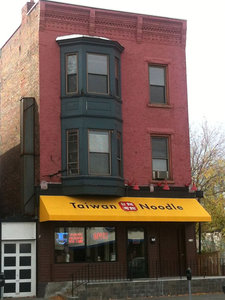 Did you happen to know that beef soup noodles are considered to the the national dish of Taiwan? And we've got a little shop on Central Avenue where you can saunter in for a heaping bowlful of them for a paltry $5.45.
It's a simple and satisfying combination of a dark brown broth with house made noodles topped with some fatty cubes of five-spiced seasoned chuck and some bright, tender-crisp slightly bitter sections of baby bok choy. There's a little sliced green onion on top for garnish, too.
But fundamentally this is noodles in broth, and I can't imagine getting through a winter without countless variations on this theme. And I'm not the only one. Cultures around the world celebrate this classic combination, whether it's Campbell's chicken soup with stars, tortellini en brodo, or the seemingly infinite variations available throughout Asia.
Let's get back to Albany for a minute.
Chuck is a tough cut of meat and it's filled with fat and connective tissue. Cook it too long and it breaks down into mush. But if you don't cook it long enough it's impossible to choke down. At Taiwan Noodle the meat pulls apart easily, while the connective tissue remains both silky and slightly toothsome. No, it doesn't melt in your mouth, but luckily we have these great things called teeth. The meat is beefy and perfumed with star anise, cinnamon, cloves, pepper and fennel seeds. However, more than anything else, it's about textural contrasts.
For some this will be a bit of a culinary stretch. I understand that not everyone lights up at such things, but for those who are up to expanding their horizons Taiwan Noodle offers a delicious training ground. Because here you can sample some delicious soup noodles with more exotic proteins, such as pigs' feet.
Which is not to say that there isn't anything on the menu for the less adventurous. There absolutely is. Soup with wontons or mixed mushrooms are accessible to anyone. And if you haven't bought into the notion of a gigantic bowl of slurpable noodles and broth as a meal, the menu even lists a token order of General Tso's chicken over rice. But that's not what you come here for. Also some of the fried dishes I've found to be a little oily.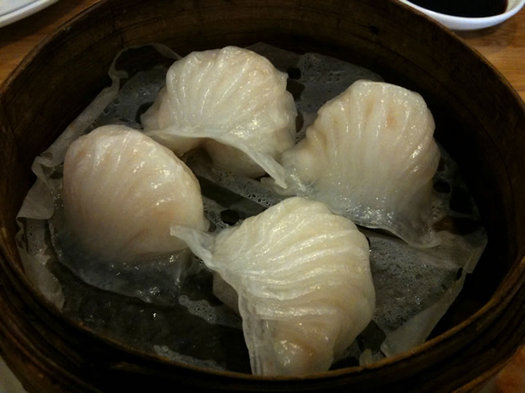 Dumplings are another good call. I'm not yet ready to call their har gow (shrimp dumplings) the best in the region. There seems to be some variability in their quality. But when they are on, they are solid. As are other steamed and pan fried variations.
Given how cheap everything is on the menu, it's tempting to order a couple of different appetizers in addition to your bowl of soup noodles. And that's fine. But you'll stuff yourself trying to eat it all. Even those little bite-sized dumplings are more filling than you might expect.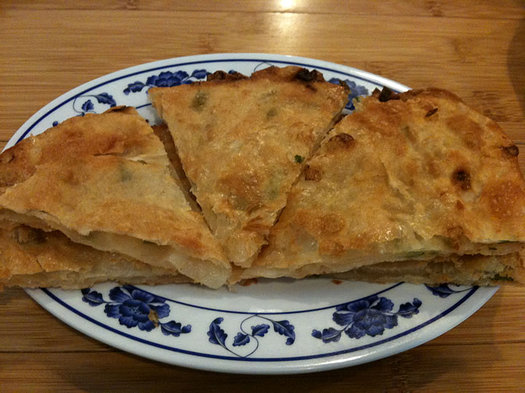 That said, an order of the scallion pancake offers a great contrast of texture to the soup as a savory side dish. Thin, crisp, hot, and oily are a great foil to chewy, slippery, steamy and meaty.
The restaurant is small. There are fewer than 15 tables. And given the modest prices for the quality of food they serve it's not nearly as crowded as one might expect -- a fact that I find shocking.
If you go, be brave. Be daring. Go a little bit outside of your comfort zone. Then marvel at how all the food you ordered could have cost so little, yet brought you so much pleasure. By the time you are done, you may just be ready to head back into the biting cold of an Albany evening in winter.
Luckily you don't have that far to go since your car is only a few feet away from the door.
Daniel B. is the proprietor of the FUSSYlittleBLOG.
Find It
Taiwan Noodle
218 Central Ave
Albany, NY 12206
Hi there. Comments have been closed for this item. Still have something to say? Contact us.