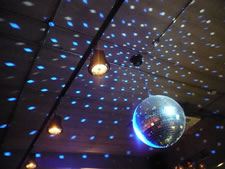 VA emails:
I love to dance. And it seems the dance options are limited in Albany... unless I play juke boxes and dance by myself in the middle of a local dive bar (which I have done many, many times). But really, the only places I'm aware of are Waterworks/Rocks (sometimes), the Fuze Box which plays 80's music (not my thing) and the college scene on Pearl Street...
So I'm hoping that you guys can shed some light on where a, ahem, late 20 something girl could go to get her groove on with people at least close to her age?... I'll take hip hop, techno, dup step or whatever else the kids are listening to these days, I just wanna shake it!
I guess I'm thinking of something for adults. Places in NY and DC that are lounge-ish with a dance floor in the back to accommodate those that wanna get off the couch and shake it for a bit. I suppose I also mean a place where single adults can go in groups or alone and dance with other single adults. I sense I'm looking for something in Albany that may not exist. The best I can come up with is a college hole in the wall or those horrendous parties at the armory. Also for college kids as it turns out.
Got a suggestion for VA? Please share!
photo: Flickr user dichohecho (cc)
Hi there. Comments have been closed for this item. Still have something to say? Contact us.