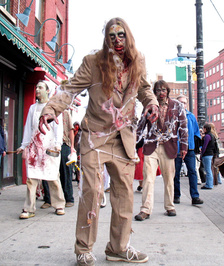 The annual Zombie Film Feast/Walk/Prom is at Proctors this year. (It had been at The Linda. Maybe there are no brains left to eat in Albany.) Here's the schedule:
Zombie prom
The zombie prom -- "complete with booze and ooze and finger foods" -- is Friday, November 16 at 9 pm. Tickets are $10.
Zombie walk
This year's zombie walk -- in which people dress up as zombies for a parade -- will stagger from Proctors to Schenectady city hall on Saturday, November 17. The undead processional starts at 4:45 pm. It's free to participate.
Zombie Film Feast
The annual festival of zombie flicks is that same Saturday in the GE Theater at Proctors. There will be two blocks of films -- 11 am - 5:30 pm, and 5:45 pm - midnight. Tickets are $25 for the whole festival, or $15 for one block.