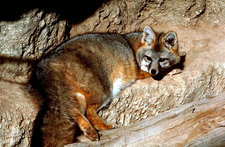 Weird: we came across an item on Craigslist this week for a lost "pet" fox in the Troy area. And though the gray fox has "a collar and tags and is up to date on all her shots," according to the listing, there was a warning that it had been trying to "play" with other pets and ended up getting into fights. The fox is apparently not afraid of people.
So we contacted the Department of Environmental Conservation to see if they'd heard anything about this. From DEC spokesman Rick Georgeson:
We are aware of this animal which is running loose with a collar and tags in the vicinity of RPI. If the animal is caught it will be taken to a wildlife rehabilitator and the owner will be ticketed, if he can be found. It is illegal to keep wild animals as pets without a permit and DEC has no permits on file for this animal.
People should either call 911 [if fox is sighted] and they will contact us or they can call the DEC dispatch at 1-877-457-5680.
The photo on the right is US Fish and Wildlife Service pic of a gray fox. (It's not the gray fox in Troy.)
A fox is a fox
Foxes may look like dogs -- but no matter how you raise a fox, it will still be a fox -- that is, a wild animal. There's a fascinating NOVA episode about dogs -- called "Dogs Decoded" (it's on Netflix streaming) -- that highlights how far removed modern dogs are from their wild cousins . The episode includes a look at a long running study of fox domestication in Siberia, as well as researchers who have tried raising wolf pups like dogs at home. The short story: foxes and wolves are not dogs -- they don't read humans the same way, and they're aggressive.
photo: US Fish and Wildlife Service via Wikipedia
Hi there. Comments have been closed for this item. Still have something to say? Contact us.