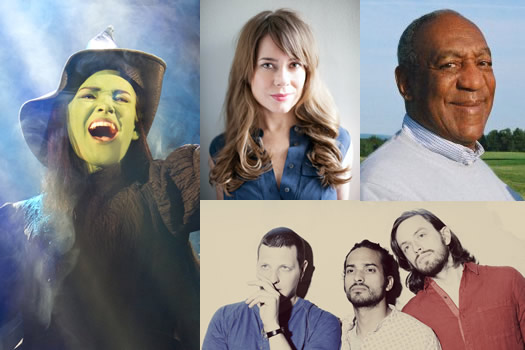 Here are a few things to keep in mind, look forward to, or keep busy with this week, from the weather(snow?), to election day, to Wicked, to nanobio, to the marriage market, to networks, to college basketball, to Cosby, to music...
Weather
Here's the paraphrased
forecast
for this week:
Monday: Sunny. Highs in the 40s. Cold at night -- lows in the low 20s.
Tuesday: Repeat.
Wednesday: Cloudier -- maybe some snow to start, rain later in the day. There's Nor'easter moving up the coast, so things could change with the track. Low 40s.
Thursday: Cloudy, rainy, upper 40s.
Friday: Sunny and 50.
Weekend: Continue.
It's going to snow. Eventually.
Election Day
It's Tuesday. Elections this year include president (of course), US Senate, the House, state Senate and Assembly, along with some local positions. Don't know where to vote? Check your county's board of election: Albany | Rensselaer | Saratoga | Schenectady.
Wicked
The touring company of the super popular Broadway show starts a multi-week run at Proctors on Wednesday (and continues through November 25). It is, of course, about the witches from The Wizard of Oz and the story casts the events of the original material in a very different light (that light is probably green). (And, as you also know, the book was written by Albany native Gregory Maguire.) Tickets range from $35 to $165. (There will also be a lottery for a very limited number of $20 tickets at each show.)
Arts and sciences
Nanobio
Monday at UAlbany CNSE: a talk by professor Andres Melendez about "the impact of nanotechnology on the aging process, including the development of innovative therapeutic and diagnostic technologies to meet the medical demands of our aging population." 6:30 pm - free
Stereotype threat
Monday at Skidmore: NYU psychologist Joshua Aronson will be giving a talk about the concept of stereotype threat and its implications for colleges. Stereotype threat is, in the words of the famous psychologist Claude Steele, "the threat of being viewed through the lens of a negative stereotype, or the fear of doing something that would inadvertently confirm that stereotype." Aronson worked with Steele on the research on stereotype threat. 7 pm Palamountain Hall - free
All the single ladies
Tuesday at Union College: journalist Kate Bolick will be giving a talk -- she's the the author of the much talked about/circulated/commented/shared "All the Single Ladies" article in The Atlantic a year ago (as mentioned). In that piece, Bolick examines the idea of what it means to be a single woman, the changing nature of the "marriage market," and ultimately argues for more flexible attitudes about the way people decide to arrange their lives. 7 pm Nott Memorial - free
The Things They Carried
Wednesday at UAlbany: a stage adaptation of The Things They Carried, a collection of interrelated stories about the Vietnam War, produced by American Place Theatre. Presented by the NYS Writers Institute and UAlbany's Performing Arts Center. 7:30 pm Performing Arts Center, uptown campus (pre-performance talk at 7 pm) - $15 / $12 faculty, staff, seniors / $10 students
Networks
Wednesday at EMPAC: designer Manuel Lima will be giving a talk about network visualization -- that will be drawn live. "This talk will explore a critical paradigm shift in various areas of knowledge, as we stop relying on hierarchical tree structures and turn instead to networks to map the inherent complexities of our modern world." Part of the Observer Effects series. 6 pm - free
Peter Beinart
Thursday at Skidmore: Peter Beinart will be discussing his recent (and controversial) book, The Crisis of Zionism, in which he argues that the Israeli government's policies toward Palestinians has damaged its standing in the world -- and its support among liberal American Jews. 8 pm Palamountain Hall - free
Film
The Last Picture Show
Proctors' AFI 100 series is showing Peter Bogdanovich's The Last Picture Show Monday night, which stars (the very young) Cybil Shepherd (her film debut), Timothy Bottoms, Jeff Bridges, Ellen Burstyn, Randy Quaid and others. various times - $5
Monty Python
Proctors is showing a remastered, HD version of the classic comedy Monty Python and the Holy Grail Thursday night. The screening also includes a short, Terry Gilliam's Lost Animations. 7 pm - $9 / $6 students
The Fall
EMPAC will be screening Tarsem Singh's The Fall on Thursday. The film includes some elaborate visuals (and they should look pretty great in EMPAC's theater). 7:30 pm - $6
College basketball
The season starts this week with the men's teams from both Siena and UAlbany in action Friday night. Siena takes on Vermont Friday night at the TU Center in its opener (7 pm). And UAlbany faces Duquesne at the SEFCU Center (6:30 pm). (Syracuse also opens its season that night, against San Diego State -- on a retired aircraft carrier -- 8 pm on MSG/Fox Sports (ch 26).)
Bill Cosby
Bill Cosby will be at the Palace Saturday night doing standup. The show is being touted as "an evening with the comedic legend," so we're guessing Cosby will be doing stand up. He's 74 years old now. But a review of stand up show from a year and a half a go reported that "he can still bring it." Maybe it's all the pudding pops and sweaters. 8 pm - $48 and up
Music
Tuesday: Young Prisms at Valentine's
"Hazy, shoegaze." 8 pm
Tuesday: Southeast Engine at Red Square
Folk rock. With: Sgt Dunbar and the Hobo Banned, Gordon Street. 8 pm - $8
Wednesday: Sérgio & Odair Assad at Troy Music Hall
Brazilian guitarists. 7:30 pm - $30
Wednesday: Human Sexual Response at Helsinki Hudson
Old-school new wave. With: Rasputina. 8 pm - $20
Thursday: Railbird at Putnam Den
Back up from Brooklyn. With: Cuddle Magic, The Daredevil Christopher Wright. 9 pm - $8
Thursday: Dillon Francis at Upstate Concert Hall
DJ, practitioner of moombahton. Moved from the Washington Ave Armory. 7 pm - $20
Thursday: Driftwood at Red Square
Americana. With: Dan Johnson, Red Haired Strangers. 8 pm
Friday: Nas at Upstate Concert Hall
Moved from the Washington Ave Armory. With: Jhene Aiko. 9 pm - $30 ahead / $35 day of
Friday: David Bromberg Big Band at The Egg
Multi-instrumentalist, multi-genre. With: Mike and Ruthy. 8 pm - $34.50 and up
Friday: Northeast Food Bank benefit at Valentine's
With: Charmboy, Henry's Rifle, New Red Scare, Jack Nemier & the Hobo Minstrels, Pistol Whips, Pick Your King, Ameros, Against the Grain. Presented by WEXT. 7 pm - $10 / $5 with a non-perishable food item
Friday: Big Sam's Funky Nation at Red Square
New Orleans funk. Hot. With: Oobleck. 8 pm - $10
The "Deconstructing The Beatles: Sgt. Pepper" talk at Proctors on Friday is sold out.
Saturday: Yeasayer at Upstate Concert Hall
Hard to describe. (Rescheduled from August.) 8 pm - $18 ahead / $20 day of
Saturday: Mulebone at Proctors
Roots/blues. An 8th Step show. 7:30 pm - $20 ahead / $22 at door
____
These are a just a few things for this week. Know of something people should be looking forward to this week? Please share!
Look for our "Stuff to do this weekend" post on Friday.
The Troy Music Hall advertises on AOA.
Wicked photo: Joan Marcus | Bill Cosby via his Facebook page | Yeasayer: Anna Palma | Kate Bolick via her website
Say Something!
We'd really like you to take part in the conversation here at All Over Albany. But we do have a few rules here. Don't worry, they're easy. The first: be kind. The second: treat everyone else with the same respect you'd like to see in return. Cool? Great, post away. Comments are moderated so it might take a little while for your comment to show up. Thanks for being patient.