By Danielle Sanzone
Update July 2013: Rochelle reports this place has closed.
As chicken wings go, I've always been kind of a purist.
I like traditional hot wings -- the kind they make at The Ruck. Spicy, please, with blue cheese on the side.
But a few weeks ago, my boyfriend came home with wings from a new pizza and wing joint on 15th Street in Troy. Peanut butter and jelly wings.
My first thought? "Ewww. Why would somebody do that to a chicken wing?"
But he'd been talking about Basil City wings for a few weeks -- and his coworkers had been raving about the place -- so I gave them a shot.
It took one bite for me to go "ewww" to "mmmm" and to make me curious about the 40 other flavors of wings on the Basil City menu. From bourbon, to teriyaki, to peanut butter and fluff.
Also: the Burning Human challenge.
Sean McCafferty has been working at pizza and wing places most of his life. He says he was 15 when he knew he wanted to work with food, and 23 when he opened his first place -- a diner in Hoosick Falls that he says "failed miserably." But he never gave up. Now he owns Bomba's in Scotia, where he offers about 50 flavors of wings. And about three weeks ago he opened Basil City in Troy, where he says the best 40 of his wing creations are available.
McCafferty says chicken wings are just a fun medium for him to experiment with different flavors. After years of making them hot, medium, or mild, he started playing. He says he was just messing around in the kitchen about five years ago when he tried peanut butter and jelly on a wing. He also added a little hot sauce. He experimented for years with the combination of sweet and savory until he found the current recipe.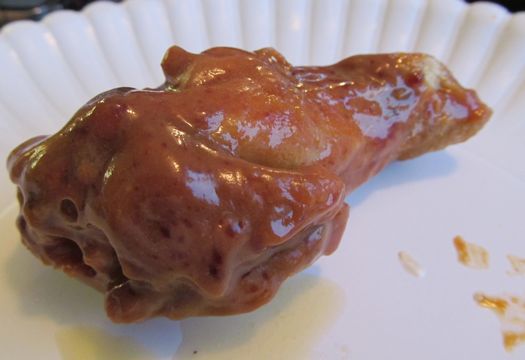 Now, peanut butter and jelly wings were new to me. But if you Google them, you'll find that they are, in fact, a thing. Brown's offered them a while back, as did Troy's Park Pub.
So, would I get them at Basil City again? Yep.
The full list of wing options at Basil City includes: traditional mild to extra hot wings, as well as BBQ -- honey or bourbon BBQ -- garlic parm, garlic butter, Memphis gold, chicken parm, bourbon teriyaki, peanut butter and fluff, Memphis bourbon, ketchup, and something called the Burning Human.
The Burning Human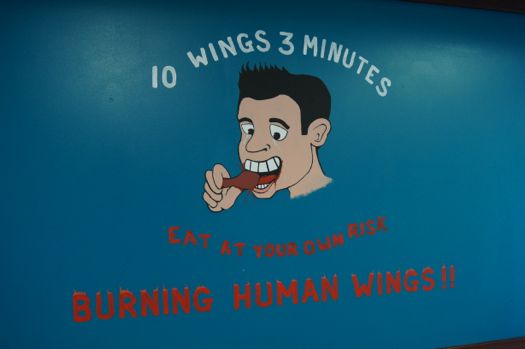 The Burning Human is a super-hot wing -- its sauce is made from ghost pepper extract. How hot are they? So hot that the guys in the kitchen at Basil City don't even touch the sauce with their hands. They coat the wings in a jar. The especially brave (or crazy) can request the Burning Human wing eating challenge: eat ten of these super-hot, wings in 3 minutes or less and you get them free. No dipping. No drinks. Losers have to pay.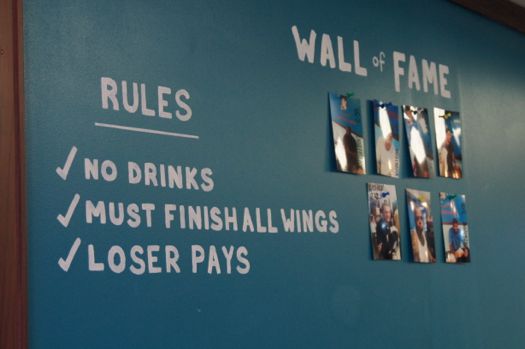 A burning wing challenge can break out at any time. Win or lose, every contestant's picture ends up on McCafferty's "Wall of Fame" or "Wall of Shame."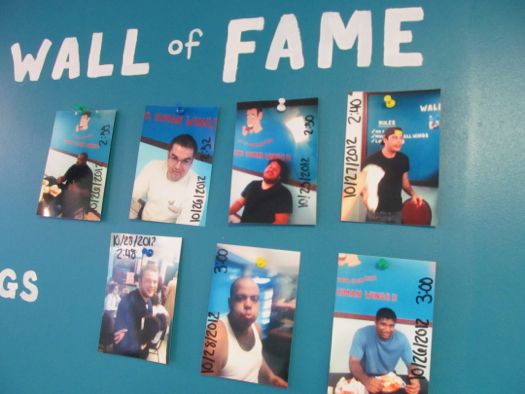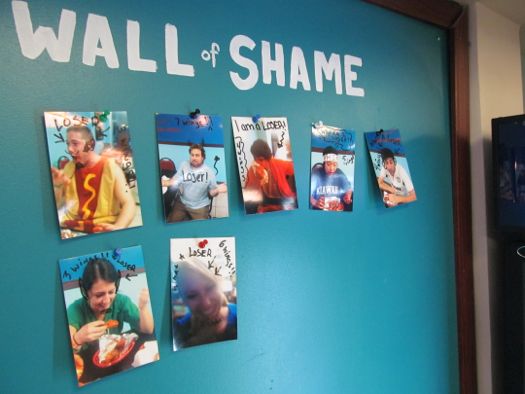 There are some really painful expressions in the photos from both the winners and losers.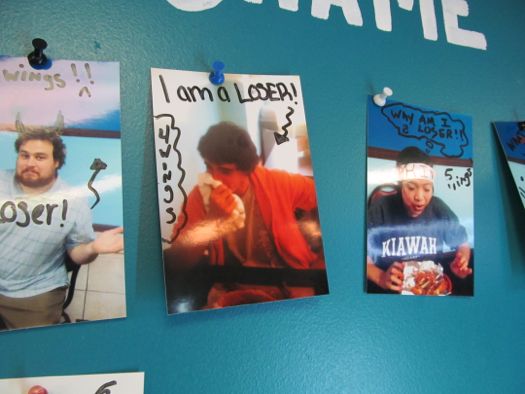 No. I didn't try them. Well, not at first.
This weekend, after finishing a few beers, my friend Andy decided he had to give the challenge a shot. So on Saturday night we headed over. Sean gave him several opportunities to back out, but Andy wasn't having it. He seemed to be doing pretty well -- at first. But he only got through about five wings before the 3 minutes were up. He did manage another 2 1/2 after losing the challenge. Still, in the end, Sean took his photo for the Wall of Shame.
And then, it happened.
I decided, "What the heck. I'll try one of the leftover wings." As I brought it to my mouth, I could see Sean in the background saying, "I wouldn't...do that." But it was too late. I had one bite of the Burning Human wing. Just one bite. It takes about 15 seconds for the ghost chile to kick in. And that's when my eyes started to tear up. After just one bite. I felt almost like I was about to have a heart attack.
As it turns out, Sean's attorney advised him to post the words "Eat at your own risk" on the wall. "Those aren't up there for decoration," he said to me about the signs.
Three blue-cheese-dipped garlic knots later I started to feel better. I finished a great slice of buffalo chicken pizza, but my eyes were still tearing.
Trying some of the other wings
Here are some thoughts on some of the wings I tried on my first trip to Basil City:
PB&J
Not what you'd think. A peanut sauce with something sweet and a kick -- like a Thai peanut wing.
Memphis gold with bourbon sauce
With its pretty sheen -- and alcoholic description -- it was especially appetizing. Starting off with a slightly crunchy surface, it was sweet but slightly tangy, too.
Garlic butter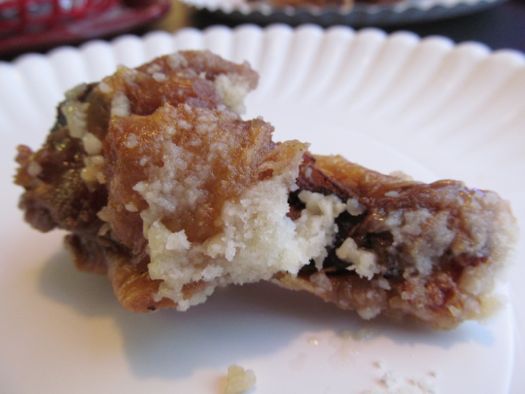 Buttery, garlicky goodness. I'd definitely get this again.
Peanut butter and fluff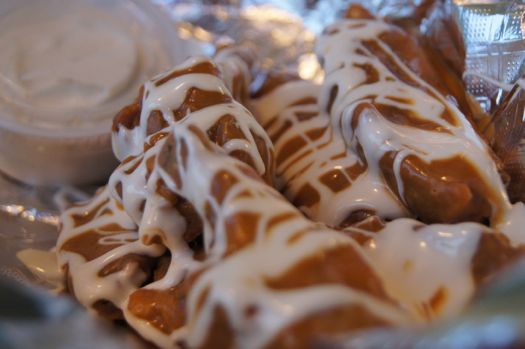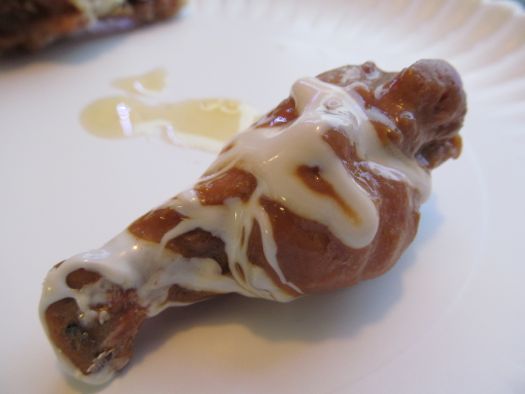 Sweet. A lot of sweet. Very, very sweet. And I have a sweet tooth.
All the wings at Basil City are the same price: $3.99 for a half order (5 wings) and $7.49 for a full order (10).
Find It
Basil City
2304 15th Street
Troy, NY 12180
271-2274
Tues-Thurs: 3 pm to midnight
Fri-Sat: 3 pm to 2 am
Sun: 3 pm to 10 pm
Closed Mondays
Hi there. Comments have been closed for this item. Still have something to say? Contact us.