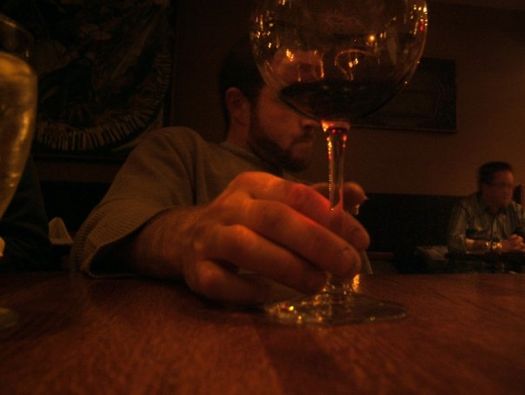 While you're easing back into the work week, here's a preview of tonight's WEXT My Exit show -- where the listeners get to pick their own playlists.
This week's eclectic mix includes Counting Crows, hip-hop infused techno, Toronto-based reggae, and a Lark Street flashback.
Who is this guy and what is he doing on my radio?
I'm Scott from Albany. I'm a contracted mechanical designer at a well known energy firm in the area. I'd previously worked by travelin' all over the country. I've a beautiful fiancée with whom I will marry come summer 2013! I'm participating in Mustache Movember on behalf of my late father. I love to climb mountains hiking and fall down them skiing. But, no matter what: Music is the beat of my heart.
What is your favorite type of music?
I find the question difficult to answer. My collection on rotation might include Boards of Canada to Yanni, Michael Buble to Tool, and The Beatles to Rage Against the Machine -- at any given moment and always fluidly. This playlist for WEXT is suited to be a little listener friendly, but still a shared semblance of me.
"Reverence" by Faithless
An almost too perfect introductory track. Brilliantly versed techy. If one is not used to hearing hip-hop infused with techno, well, Faithless is definitive. And how uplifting. How many a night have I started a long drive with this track?
"The Story" by Brandi Carlile
It's funny how she has come to the Albany Area and I have yet to be able to make it to a show. Brandi's voice is, in a word, beautiful, in another, delicate, and to add, powerful. Not in the typical diva-esque (is that a word?) manner. This song is as much about me as it is about whoever she is singing it to. I have a story I ought to tell you.
"A Long December" by Counting Crows
If nostalgia were my ailment, I'd be sickened with the ability to love the past. Counting Crows have one of the most catchy and comfortable ways of putting lyrics together. This song to me is all about remembering the year and what and where's next.
"When the Night Feels my Song" by Bedouin Soundclash
A Toronto-based reggae infused band. If one could call this a modern day "I can see clearly now" feel good song. Rough around the edges, but nothing short of a load of fun it makes waking up in the morning a little more vibrant.
"Fire" by Afrika Bambaataa/DJ Soulsinger
From back in the day (that's all I'm going to say about MY back in the day). This is a truly bombastic track, a great way to end. Makes you want to get up and dance, or bob your head. When Albany was full of techno, and Audio Underground ruled on Lark Street. Where the records were records pushed on Technics -- you know this track.
You can hear Scott's My Exit show Monday night at 8 pm on 97.7 or at exit977.org.
Here's how to schedule your own My Exit show on WEXT.
Hi there. Comments have been closed for this item. Still have something to say? Contact us.