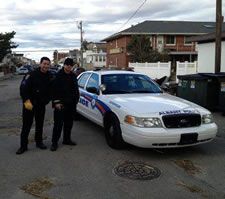 Among the assistance that's made its way from the Capital Region to the greater New York City area for Sandy recovery: police cars. The Albany Police Department says it's loaned two of its cars to the Long Beach Police Department on Long Island (that's a photo of one of them on the right).
Long Beach is on a narrow strip of land on the south shore of Long Island, near New York City -- the storm knocked out power, contaminated the water supply, flood buildings, picked up vehicles, and pushed sand through the streets. APD spokesman Steven Smith says a majority of the LBPD's vehicles were damaged during the storm and the New York State Emergency Operations Center sent out a statewide request for police vehicles that could be sent to help. "Chief Krokoff felt that it was very important to assist them during this time of need."
Smith says one of the patrol cars the APD sent is a reserve car and the other was used for training at the police academy. He says there's an agreement to loan the cars for four weeks, with an option to extend the loan if the Long Beach PD still needs the vehicles.
photo: Trooper Patrick Sheufelt, New York State Police via APD
Hi there. Comments have been closed for this item. Still have something to say? Contact us.