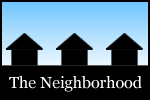 Among the topics in this most recent spin around the Capital Region's online neighborhood: Meat Romney, a nation divided by Facebook, generator ethics, BUILT, surveillance, winning Halloween, mushroom hunting, tattoos, mozz and melba drama, white whales, Helsinki Hudson, disappointing breakfast, a beermosa, miSci, Nanovember, maps, and a face.
Behold: Meat Romney, Mr. Dave's latest creation.
Rob, on the election and Facebook: "Social media is bound to be the next thing that bitterly divides us."
Kristi considered the ethics of buying -- and then returning -- a generator around a storm.
Silvia says Historic Albany's BUILT event keeps getting better. (Here are a bunch of photos from Chuck.)
Chuck was under surveillance at the Saratoga racino.
Skidmore Official declares -- and we may concur -- that this kid won Halloween.
Jackie went mushroom hunting in Moreau.
Crystal and her husband got complementing tattoos at Lark Tattoo for their anniversary.
Daniel is composing the next tour -- the Tour de Mozzarella and Melba. Oh, the controversy!
The Masticating Monkey identified some "white whales" in the local food scene.
Emily had some tasty food at Helsinki Hudson.
It sounds like Aliza was disappointed by her breakfast experience at the Turf Club.
Ashley suggests not doing what she did at The Local.
Katie had a beermosa at Max London's.
Ashallann made Hattie's jambalaya at home.
The Exiles checked out the recently miSci-ed Schenectady Museum -- including the hurricane simulator.
Albaniana's husband went to one of the Nanovember talks.
Carl's "map fortnight" continues.
And Paula took a moment to admire a face at the Capitol.