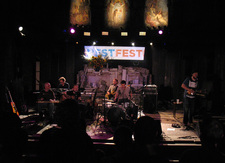 The Albany metro area ranks #9 in the nation for musical acts per 10,000 people, according to an analysis by an academic institute at the University of Toronto that includes Richard "Creative Class" Florida and published today at Atlantic Cities.
This analysis follows up on previous work by Florida and his colleagues looking at clusters of musicians around the nation. In that earlier work, based on federal jobs and industry data, Albany ranked 14th among "centers for musicians and the music industry."
As with that previous analysis, this new work has some important caveats. The foremost: it's based on data pulled from MySpace in 2007. That's not totally a bad thing. Using that data helps get around the problem of only including people who are identified as professional musicians in the federal data. But, still... it's MySpace and it's from 2007. And, of course, such an analysis doesn't necessarily account for quality.
That said, it's not surprising that this area would rank relatively high. We have a bunch of musical acts here -- and a lot of them are good.
[via @SeanPCollins]
Earlier on AOA: Find other people who do what you do, and then push each other to get better
Hi there. Comments have been closed for this item. Still have something to say? Contact us.